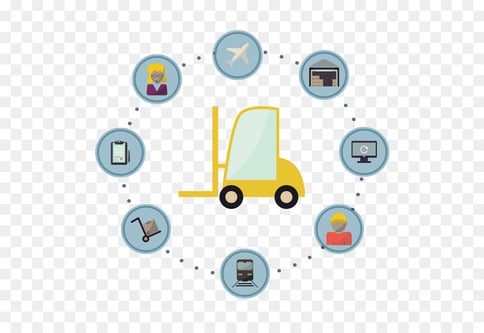 Shippers, carriers, 3PL's and others are always looking for ways to improve efficiency in logistics. A growing solution is the transportation management system or TMS. A TMS is a platform, typically cloud-based, that is designed to streamline several aspects of the shipping process. This revolutionary platform is being used by leaders in logistics and automates the supply chain, provides multiple insights, reports, and allows logistics network partners to save time, money, and spend fewer assets on future shipments.
Who is Using Transportation Management Systems?
Arguably the greatest features of a transportation management system is the flexibility of use. Essentially, if you have a hand in any aspect of the supply chain, you can utilize a TMS. E-commerce organizations, distribution companies, shippers, carriers, and anyone else who ships commodities and freight on a regular basis can use TMS to their advantage. A TMS system manages multiple sections of transportation management, and will benefit anyone who is involved in these four areas:
• Planning and Decision Making: The transportation management system helps to locate and determine the most efficient transportation for unique parameters.
• Transportation Execution: TMS solutions permit the user to execute transportation services such as dispatching carriers, accepting rates, and more.
• Follow-Up on Transportation: The TMS solution permits the user extended traceability of freight – at multiple touchpoints of transportation.
• Reporting: Transportation Management Systems offers the flexibility to create multiple reports, which helps to fine-tune supply chain solutions.
What are the Benefits of TMS?
As with any new technology, there are benefits and hurdles that all users should be aware of prior to investing in them. Some of the biggest benefits of TMS include:
• Technological Capability: As a shipper, using a TMS system arms you with the latest and best technology to expedite the logistics process. TMS permits you to route freight based on transit time, quotes and with a wide-carrier mix. It's a centralized estimation and routing system – that allows you to complete full logistics planning, execution, and tracking.
• Simplifies Processes: The use of TMS can simplify your search for the right carrier – for the right shipping needs. It reviews the commodities you are shipping and finds carriers that are better served to transport the goods safely and efficiently. It also permits you to create profiles for quicker routing and shipment planning as you move forward.
• Track Freight: TMS solutions are exceptional for tracking freight while it's in transit. You can set up a TMS system to provide you with alerts – via multiple platforms. If there are delays in the transit, you'll be able to update customers and shipping recipients.
• Business Insights: Some of the best TMS solutions offer in-depth reporting and insight capabilities. TMS can store multiple shipping profiles and create easy-to-review reporting – in multiple reporting formats. Custom reports, invoicing, and more are possible with TMS.
What are the Challenges do TMS System Combat?
Technological advancements are typically developed to improve operational efficiency. In the logistics world, there are multiple challenges that shippers, carriers, 3PL's and others must battle on a daily basis. The TMS system can combat multiple challenges including:
• Improving organization: When you work with multiple shipments, carriers, customers, and other variables, keeping your pricing quotes organized and easily accessible is a major challenge. Instead of jumping from website to website or using multiple screens, using a TMS system to improve your organization is a key feature of this solution.
• Helps you Select the Right Carrier: Not all shipments are identical. Even if you sell the same commodity, some shipments are more time-sensitive or require special handling services on request of your customer. The TMS system has the capacity to find the right carrier, for the right service, at the right price.
• Improves Communication: Regardless of the type of business you are in – maintaining clear and transparent communication is a critical component to customer service. A major hurdle that all industries face delays in the delivery of freight. The tracking solutions offered by today's advanced TMS solutions permit you to track shipments in real-time, with instant updates being sent to you via email, desktop notifications, text, SMS, and more.
Transportation management systems are the future of the supply chain. They are scalable, customizable, brandable, and can be set up specifically for your industry, consumer base, and needs. Just like any other technological solution, the more education, training, and information you receive about TMS solutions – the easier it will be to determine what type of system is best suited for you.