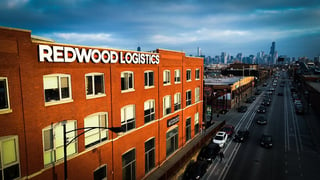 Redwood Logistics to Offer Real-Time Freight Capacity and Pricing Powered by Blue Yonder
Redwood to expand technology capabilities and digital freight marketplace access with Blue Yonder's dynamic price discovery service.
---
CHICAGO and SCOTTSDALE, Ariz. – Feb 23, 2021 -- Redwood Logistics (Redwood), one of the fastest-growing supply chain and logistics companies in North America, launches its real-time Rating API offering and announces the solution's integration with Blue Yonder's dynamic price discovery service. This connection will expose instant truckload rates to any customer directly within their TMS (or any other application), providing guaranteed capacity and superior buying capabilities to shippers of all sizes.
Redwood's Rating API solution uses algorithmic load matching to provide customers with on-demand pricing and booking using a real-time API connection that integrates directly into existing transportation management systems (TMS). The Rating API adds another asset to Redwood's integrated LPaaS (Logistics Platform as a Service) model, which connects its customers to the best industry solutions, services, people and technology, via RedwoodConnect™. RedwoodConnect™ is a proprietary, turnkey supply chain integration platform-as-a-service (iPaaS), designed to streamline the most complex integration cases.
"Our Rating API is the latest result from Redwood's overall mission, to simplify connections and bridge communications between a company's disparate technology platforms to improve operations," said Michael Reed, Chief Product Officer, Redwood Logistics. "Perhaps most importantly, in addition to providing superior speed—the solution allows our customers to quote and book in a matter of seconds – the product is built on top of our proprietary, machine learning pricing module that delivers reliable service and guaranteed capacity for our shippers."
Blue Yonder's dynamic price discovery provides real-time digital connectivity for freight management, reducing shipping costs, and increasing profitability for shippers and freight carriers. The dynamic price discovery service is part of the Blue Yonder Network, built on the Blue Yonder LuminateTM Platform, powered by Microsoft Azure. Luminate Platform combines data from both internal and external sources – spanning shippers' digital supply chain ecosystems – to leverage both artificial intelligence and machine learning, enabling smarter and more actionable business decisions.
"Working with a tech-forward company like Redwood Logistics to integrate our dynamic price discovery with their RedwoodConnect platform helps save shippers significant time and money while also providing faster speed to automation, improved visibility and better control. The integration will also drive more volume for Redwood Logistics, which is celebrating 20 years of innovation as it looks to continue to grow," said Terry Norton, vice president, 3PL & Transportation, Blue Yonder.
Backed by Redwood's 20 years of supply chain experience, the Rating API connects customers with Redwood's prebuilt, robust carrier and private capacity networks, enabling one-click access to hundreds of carriers with a drag and drop functionality that delivers speed, security, and scalability.
For more information on Redwood's Rating API, please visit https://redwood1dev.wpengine.com/service/move/rating-api/.
For more information on Blue Yonder's dynamic price discovery service, please visit https://blueyonder.com/knowledge-center/collateral/dynamic-price-discovery-solution-sheet and https://blueyonder.com/knowledge-center/collateral/dynamic-freight-management-white-paper.
About Blue Yonder
Blue Yonder is the world leader in digital supply chain and omni-channel commerce fulfillment. Our intelligent, end-to-end platform enables retailers, manufacturers and logistics providers to seamlessly predict, pivot and fulfill customer demand. With Blue Yonder, you can make more automated, profitable business decisions that deliver greater growth and re-imagined customer experiences. Blue Yonder - Fulfill your PotentialTM blueyonder.com
"Blue Yonder" is a trademark or registered trademark of Blue Yonder Group, Inc. Any trade, product or service name referenced in this document using the name "Blue Yonder" is a trademark and/or property of Blue Yonder Group, Inc. All other company and product names may be trademarks, registered trademarks or service marks of the companies with which they are associated.
About Redwood Logistics
Redwood Logistics, a leading logistics platform company headquartered in Chicago, has provided solutions for moving and managing freight for more than 18 years. The company's diverse portfolio includes digital freight brokerage, flexible freight management, and innovative platform services that simplify integrating disparate supply chain technology. Redwood Logistics connects its distinct roster of customers to the power of supply chain management, technology, and the industry's brightest minds. For more information, connect with us by visiting our website.
Redwood Media Inquiries:
Allison Mills
LeadCoverage
706-200-2148
Blue Yonder Media Inquiries:
Marina Renneke, APR
Blue Yonder
480-308-3037