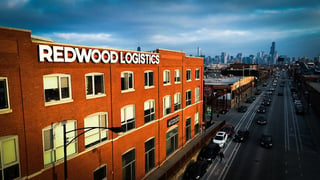 Redwood Logistics Raises Over $247,000 for Ann & Robert H. Lurie Children's Hospital of Chicago
–Redwood's annual Redwood Games raises funds to extend Lurie Hospital's ability to provide a healthier future for children in Chicago–
CHICAGO – September 07, 2023 – In an effort to provide a healthier future for children in Chicago and to extend treatment options for those suffering from an array of serious conditions, Redwood Logistics ("Redwood"), one of the fastest-growing supply chain and logistics companies in North America, today announced its contribution to the Ann & Robert H. Lurie Children's Hospital of Chicago. To support the efforts made by Lurie Children's, Redwood was able to raise $247,770, with half that amount from the Redwood Games, Redwood's annual employee driven philanthropy event, and half from a dollar-for-dollar company match.
Lurie Children's Hospital is a nonprofit organization providing superior pediatric care in a setting that offers the latest benefits and innovations in medical technology, research, and family-friendly design. In 2022, Lurie Children's Hospital treated 239,420 patients, with an aim to assist more patients in 2023, 2024, and beyond aided by generous donations like the one provided by Redwood.
"The Lurie Children's Hospital cause is near and dear to us here at Redwood," said Todd Berger, President, Redwood. "Children across Chicago, Illinois and the United States unjustly suffer from an array of conditions including mental illnesses, physical ailments, neurological disorders, illnesses and more. We want to make life easier and provide a path to a healthier future for these children as well as those who will need assistance in the future."
Lurie Children's Hospital operates under their mission to provide CARE (Clinical Care, Advocacy, Research and Education) to all patients who require their attention. In the 2023-24 U.S. News & World Report rankings of the Best Children's Hospitals, Lurie Children's ranked among the top hospitals in Illinois, ranking in nine specialties.
"We want to extend the abilities of our staff and technology to provide better care to every child that needs us," said Dr. Thomas Shanley, President & CEO, Lurie Children's Hospital. "We faced challenges like many healthcare organizations did coming out of the COVID pandemic, with staffing shortages being at the forefront. In 2022, we were able to bring on 363 new nurses and treat 240,000 patients. With donations from companies like Redwood, we're able to provide access to care for families who are under/uninsured, provide tailored and comprehensive support for families beyond just medical care, connect families to community-based resources for ongoing support, and advocate for policies that address root causes of child health disparities."
The Redwood Games is Redwood's annual fundraising event that encourages friendly competition, with employees spread across dozens of fundraising teams in the spirit of raising money for an organization that serves a community in need. The months-long event also acts as a collaborative initiative to bring Redwood employees together to meet new colleagues, exercise teamwork, and raise significant funds for organizations doing great work.
"This year's Redwood Games was extra special to us as we welcomed the remarkable talents of our newly acquired Rockfarm family to join us in this in-person philanthropic event. I couldn't be prouder to welcome Rockfarm to our Redwood Games, and together we turned our collective spirit into positive action," continued Berger. "Everything starts with culture at Redwood. Our tremendous philanthropic turnout underlines that point."
Prior recipients of annual Redwood Games fundraising efforts include the Danny Did Foundation, St. Jude Children's Research Hospital, first responders, the Juvenile Diabetes Research Foundation, and Heroes and Horses.
Check out pictures from this year's Redwood Games, learn more about Redwood's workplace culture of philanthropy and career opportunities, and donate to the Lurie Children's Hospital to add to the impact.
About Redwood Logistics
Redwood Logistics, a leading logistics platform company headquartered in Chicago, has provided solutions for moving and managing freight for more than 21 years. The company's diverse portfolio includes digital freight brokerage and flexible freight management all wrapped into a revolutionary logistics and technology delivery model—Logistics Platform as a Service (LPaaS). LPaaS utilizes an open platform for digital logistics that empowers shippers to seamlessly mix-and-match partners, technologies and solutions into their own unique digital supply chain fingerprint. Redwood connects a wide range of customers to the power of supply chain management, technology and the industry's brightest minds. For more information, visit www.redwoodlogistics.com
Media Contact:
Tyler Thornton
LeadCoverage
tyler@leadcoverage.com