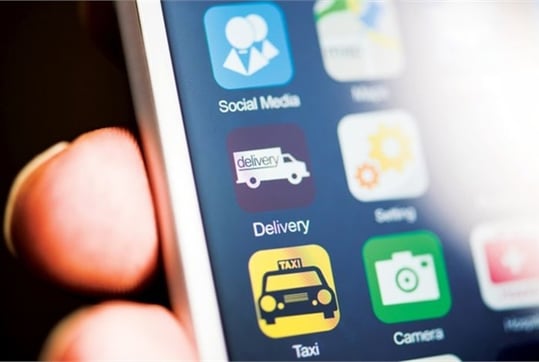 The e-Commerce space is quickly becoming a race for second place. Let's face it – Amazon.com is the global giant of eCommerce sales. One of the major reasons why they've risen to the upper tier of e-Commerce dominance is their dedication to last mile technology solutions. From automated picking and packing services to SMS text delivery notifications, Amazon's last mile technology game is far superior to anyone else in e-Commerce.
While it's not realistic to expect a smaller e-Commerce company to replicate the sales of Amazon – there are several of their last mile technology solutions that can be added to any sized e-Commerce store; each of them scalable, affordable, and can help them provide superior customer service.
In the next few paragraphs, let's break down 4 of the most impactful last mile technology solutions that retailers should consider investing in as the calendar turns to 2019.
What is the Last Mile in Logistics?
The supply chain is comprised of multiple steps, the final is when a commodity is delivered to the end consumer. This is where the last mile comes into play. The last mile is defined as the final leg of transportation to the customer - and provides a company with an opportunity to earn customer loyalty or lose a customer forever. Businesses from Fortune 500 giants to independently operated are constantly looking to optimize the last mile to increase customer service and engagement.
The modern customer expects their deliveries quick, cheap, and on their time schedule. This presents a challenge to most carriers – as to accomplish these tasks often comes with increased costs and reduced delivery efficiency. To achieve these goals, shippers need to find affordable methods for improving last mile logistics services – without breaking the bank. Like most industries – technology tends to solve these issues. Last mile technology is designed to streamline operations in order to both reduce costs and enhance customer experience.
So – that begs the question; what 4 last mile technologies can any sized e-Commerce implement for 2019? Here are a few ideas to consider:
Blockchain: The blockchain technology was initially designed for cryptocurrencies (like Bitcoin) in order to provide transparency on all transactions. In recent years, it's found a home in the logistics space as a powerful cog to the customer relationship management solutions often used. Blockchain allows the supply chain partners to better interact with one another. This also allows customers to have a more accurate estimate of the package's arrival.
Cloud-Based Network Platforms: The power of cloud-based solutions is used in virtually every single industry. The transportation and supply chain world use cloud-based network platforms to store and access millions of data points from any remote location. Cloud platforms also enable real-time changes to deliveries. In fact, did you know that nearly 50 percent of all consumers want the flexibility to make delivery changes after placing the order? Cloud-based or network-based platforms put this power in their hands.
Consider Crowdsourcing Delivery App Integration: The days of USPS or Fed Ex / UPS delivery limitations are gone – thanks to a growing group of crowdsourcing delivery services. Organizations like Postmates, UberRUSH, Deliv, and more have provided smaller or regionally-based retailers to improve their last mile logistics platforms for a minimal cost. These apps alert independent contractor delivery drivers when a retailer has a delivery available. They then pick up the product and are routed directly to the consumer. The best feature of these services is that most of the time, the customer pays for the flexibility of this service – so the retailer will incur very little cost but be the beneficiary of expedited last mile deliveries.
Direct Consumer Delivery Apps: While the crowdsourcing solution is a great way to have local deliveries completed, the consumer delivery app is going that extra effort. These apps are designed to allow customers to update delivery options on the fly and are then relayed to the delivery agent. For example; let's say Mrs. Jones is expecting an overnight delivery that requires a signature from UPS between 3 and 5pm. Early in the morning, an emergency or unexpected situation occurs which causes her to not be home during those hours. Using the delivery app, the consumer can update the terms and ask for the package to be dropped off at a neighbor house, or possibly delivered at a different time.
The best attribute of these 4 last mile technology solutions is that they all can be implemented on a scalable factor. This allows any sized retailer to invest or upgrade their last mile technology with budgets they can afford. If you're a retailer or e-Commerce company looking for affordable ways to improve your last mile solutions, reach out to a dependable third-party logistics provider. A 3PL uses multiple last mile technology platforms and helps companies of all sizes integrate them into their operations easily, affordably, and with reduced frustration.