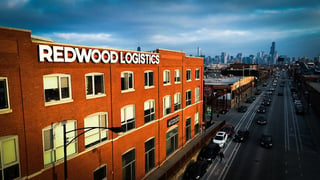 Redwood's Nate Greensphan Awarded Crain's 2023 "Notable Leader in Sustainability"
– Recognized for his sustainability accomplishments, including critical leadership on the launch of Redwood Hyperion–
CHICAGO, August 17, 2023 – Redwood Logistics (Redwood), one of the fastest-growing supply chain and logistics companies in North America, today announced that Nate Greensphan has been named one of Crain Chicago's 2023 Notable Leaders in Sustainability. Greensphan, Senior Product Manager and leader of Redwood's Sustainability and Parcel product lines, remains a key leader in Redwood's sustainability initiative, most notably with the launch of Redwood Hyperion, Redwood's emissions visibility and carbon offsetting tool, in March 2023.
Redwood realized the need for improved emissions visibility and data-driven sustainability solutions for shippers of all sizes, as companies face future sustainability reporting mandates. To help guide shippers through their sustainability journeys and meet these mandates, Nate was instrumental in the development of Redwood Hyperion, providing shippers with automated load-by-load carbon emissions tracking across vast amounts of granular logistics data. The information accessible through Redwood Hyperion allows users to reveal energy inefficiencies and optimize accordingly. Where emissions cannot be reduced, Redwood Hyperion connects users to a carbon credit marketplace powered by Cloverly to purchase third-party verified carbon offsets.
"With Redwood Hyperion, ambitious sustainability goals in the supply chain industry are not a threat, but an opportunity," said Nate Greensphan. "Every shipper is at a different place in their sustainability journey and all have unique needs and goals. Through customizable tools, we're able to meet them where they are and ensure that the entire industry is moving in the right direction toward achieving critical reduction targets, which starts with more accurate emissions accounting."
Among the company's sustainability tools, Redwood also offers Redwood Eco Advisor services, which empowers shippers to maximize their supply chain efficiency, lower emissions, and reduce freight costs. Redwood has also received an EcoVadis Bronze medal and SEAL Sustainability award for its recent innovations in sustainability.
"Nate's expertise in logistics sustainability and SaaS product delivery shaped the development of Redwood Hyperion from the very beginning of the idea to its market launch," said Mike Reed, Chief Product Officer, Redwood Logistics. "He is a vital leader on the team focused on environmental and sustainability issues to position Redwood as the clear 4PL choice for shippers looking for ESG and corporate responsibility interconnected with modern transportation solutions."
Greensphan spent 10 years in technology before bringing his passion for sustainability to the transportation industry, where he has spearheaded ESG efforts for the past 3 years. Greensphan contributes to meaningful sustainability conversations in the industry, including as a panelist at Loyola University's 2022 Supply Chain & Sustainability Summit. He graduated from the University of Illinois with a B.S. in Natural Resources & Environmental Science.
Crain's 2023 Notable Leaders in Sustainability showcases sustainability visionaries whose work leads the way toward a greener future. The individuals recognized drive innovation, pioneer new ideas, and advocate for environmental causes within their industry.
View the full list of winners here: https://www.chicagobusiness.com/notables/crains-notable-leaders-sustainability-2023
About Redwood
Redwood Logistics, a leading logistics platform company and modern 4PL headquartered in Chicago, has provided solutions for moving and managing freight for more than 21 years. The company's diverse portfolio includes digital freight brokerage and flexible freight management all wrapped into a revolutionary logistics and technology delivery model—Logistics Platform as a Service (LPaaS). LPaaS utilizes an open platform for digital logistics that empowers shippers to seamlessly mix-and-match partners, technologies and solutions into their own unique digital supply chain fingerprint. Redwood connects a wide range of customers to the power of supply chain management, technology and the industry's brightest minds. For more information, visit www.redwoodlogistics.com.
Media Contact
Tyler Thornton
LeadCoverage
tyler@leadcoverage.com