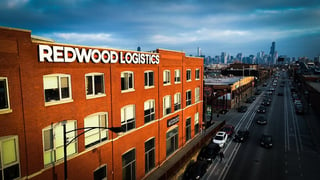 Redwood Logistics to Present Modern 4PL Use-Case at Gartner Supply Chain Symposium
CHICAGO – May 2, 2023 – Redwood Logistics (Redwood), one of the fastest-growing supply chain and logistics companies in North America, will be presenting alongside its customer, Ashley Furniture, at the Gartner Supply Chain Symposium/Xpo from May 8-10, 2023 in Orlando, Fla. Redwood's Chief Innovation Officer, Eric Rempel, will be joined by Ashley Furniture's VP of Transportation and Distribution Systems, Helen Crotty, on Tuesday, May 9 at 1:05 p.m. ET to share their companies' supply chain evolution stories and showcase the benefits of collaborating with a modern fourth-party logistics (4PL) provider.
Rempel and Crotty will explore Ashley Furniture's use of Redwood's open digital ecosystem of logistics playbooks and supply chain connections, available to the company through RedwoodConnect™, the proprietary integration engine at the core of its Logistics Platform as a Service (LPaaS). Attendees will also discover the benefits of a single enterprise-grade no-code integration platform that streamlines and unites logistics execution and supply chain orchestration.
"Leveraging decades of proven asset-based brokerage and transportation management experience has allowed Ashley Furniture to take the next step in customer fulfillment and satisfaction," said Rempel. "LPaaS is the next generation of logistics. By getting out of spreadsheets and into plug-and-play automation platforms that allow freight data to flow freely, shippers across all industries will understand the benefits of working with a modern 4PL solution like Redwood."
Redwood's LPaaS approach is the backbone of its 4PL structure, as recently outlined in a Gartner Innovation Insight Report that named Redwood as a Representative Provider in the 4PL category. Redwood's 20-year history started with physical supply chain services, and the company has evolved to offer supply chain technology innovation with logistics execution.
The Gartner Supply Chain Symposium/Xpo is a highly anticipated event that brings together top supply chain leaders from around the world to discuss industry trends, best practices and the future of the supply chain. Rempel and Crotty's "Supply Chain Orchestration with a Modern 4PL" demonstration will take place in the Atlantic Hall on Xpo Stage One on Tuesday, May 9 at 1:05 p.m. ET.
Attendees can also meet Rempel and several other Redwood executives and product experts at Booth 121 during the symposium to discuss orchestrating their supply chain with a modern 4PL. Learn more and connect with the Redwood team at their Gartner Supply Chain Symposium event page: https://redwood1dev.wpengine.com/gartner-scs-2023/. Redwood will be sharing a sneak peek into their Gartner presence during a LinkedIn Live event on Wednesday, May 3 at 4 p.m. ET. Register here: https://www.linkedin.com/events/7051214861275426816/about/
---
About Redwood
Redwood Logistics, a leading logistics platform company and modern 4PL headquartered in Chicago, has provided solutions for moving and managing freight for more than 21 years. The company's diverse portfolio includes digital freight brokerage and flexible freight management all wrapped into a revolutionary logistics and technology delivery model—Logistics Platform as a Service (LPaaS). LPaaS utilizes an open platform for digital logistics that empowers shippers to seamlessly mix-and-match partners, technologies and solutions into their own unique digital supply chain fingerprint. Redwood connects a wide range of customers to the power of supply chain management, technology and the industry's brightest minds. For more information, visit www.redwoodlogistics.com.
Media Contact
Tyler Thornton
LeadCoverage
tyler@leadcoverage.com