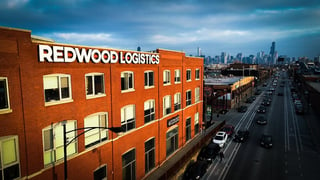 Redwood Logistics' John Rattay and Emily Weiser named Supply Chain 'Pros to Know'
CHICAGO – May 17, 2023 – Redwood Logistics (Redwood), one of the fastest-growing supply chain orchestration and logistics execution companies in North America and innovators of Logistics Platform as a Service (LPaaS), today announced that Chief Commercial Officer John Rattay and SVP of Sales Emily Weiser have been named to Supply & Demand Chain Executive's 2023 "Pros to Know." Their customer-centric roles and approach to supply chain challenges have positioned the pair as supply chain leaders to watch through 2023 and into 2024.
As CCO, Rattay has spearheaded Redwood's ability to reach and equip shippers, logistics providers and software vendors with best-in-class supply chain solutions. Connecting customers to the best industry innovations, services, people, and technology, Rattay has overseen the company's growth to $1.28 billion in 2022 revenue, including 34 percent year-over-year SaaS growth.
"Redwood takes great pride in collaborating with our customers to deliver innovative and easy-to-use technology that helps automate their supply chains and deliver massive value," said Rattay. "We've developed a unique approach to deliver high-impact, low-risk logistics and technology services that have unlocked significant business benefits. As we have continued to grow and bring on new customers and integrations, our open ecosystem of FreightTech tools powered by our proprietary RedwoodConnect™ integration platform has only grown stronger."
In her role as SVP of Sales for Platform Services, Weiser is instrumental in meeting shippers across a wide variety of industries wherever they are in their supply chain orchestration journey, leading to a 400 percent SaaS pipeline growth leveraging the RedwoodConnect open ecosystem. Weiser brings nearly two decades of transportation operational expertise to help Redwood customers gain end-to-end visibility through the RedwoodConnect composable platform and suite of modern 4PL services. Her leadership has been critical to ensuring Redwood customers can effectively layer their physical and digital supply chains, including through her work in spearheading Redwood's Customer Advisory Board.
"Redwood's innovative approach to 3PL and 4PL freight management has opened the door for customers to grow with us," said Weiser. "Without technology, shippers will find it hard to succeed. It's our job at Redwood to equip our shippers with the tools and technology they need to overcome disruptions before they even emerge."
For more than 20 years, Supply & Demand Chain Executive's "Pros to Know" Awards have recognized supply chain, manufacturing, and non-manufacturing enterprises that are leading initiatives to help prepare their companies' supply chains for the significant challenges of today's business climate.
See Supply & Demand Chain Executive's website here for the full list of 2023 Pros to Know winners from the record-breaking nearly 400 nominations for the award.
About Redwood
Redwood Logistics, a leading logistics platform company and modern 4PL headquartered in Chicago, has provided solutions for moving and managing freight for more than 21 years. The company's diverse portfolio includes digital freight brokerage and flexible freight management all wrapped into a revolutionary logistics and technology delivery model—Logistics Platform as a Service (LPaaS). LPaaS utilizes an open platform for digital logistics that empowers shippers to seamlessly mix-and-match partners, technologies and solutions into their own unique digital supply chain fingerprint. Redwood connects a wide range of customers to the power of supply chain management, technology and the industry's brightest minds. For more information, visit www.redwoodlogistics.com.
Media Contact
Tyler Thornton
LeadCoverage
tyler@leadcoverage.com