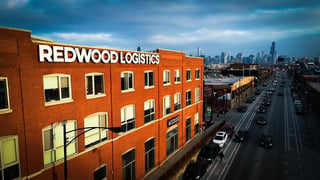 Redwood Logistics and FreightWaves Partner to Deliver Powerful OTM and SONAR Integration
CHICAGO – June 14, 2023 – Redwood Logistics (Redwood), one of the fastest-growing supply chain and logistics companies in North America, today announced FreightWaves, the leading provider of high-frequency data for the global supply chain, has selected Redwood as their integration partner between Oracle OTM (Oracle Transportation Management) and FreightWaves' SONAR freight data intelligence platform. Powered by RedwoodConnect™, Redwood's proprietary integration platform, OTM users can now embed SONAR data directly into their user workflow to enhance decision making at the point of carrier offers and tendering.
"Redwood's status as an Oracle Gold Partner positioned them as a strong partner for FreightWaves because they have the implementation, integration and customization experience with large TMSs necessary to provide the most value to shippers and logistics service providers and to scale SONAR's reach," explained Amy Hart Philips, SVP of Strategic Partnerships and Execution, FreightWaves.
SONAR's TRAC (Trusted Rate Assessment Consortium) data and market intelligence have primarily been used by analysts and other individual users in the FreightWaves SONAR SaaS offering and its suite of API solutions. This new integration puts the info in the hands of TMS end-users, operations managers and logistics analysts. When users are tendering an order or shipment, they can compare their contract and spot carrier rates with current market trends in real-time. Storing SONAR lane intelligence data alongside order and shipment data in OTM unlocks new avenues for post-analysis and continuous improvement.
Beyond rate benchmarking, users can tap into additional data analysis from FreightWaves, including the Outbound Tender Rejection Index, Outbound Tender Volume Index, Lane Capacity Score and more.
"Shippers no longer have to sift through pages of data across multiple screens. All the information needed to fortify rate negotiations is in a single point of truth," said Eric Rempel, Chief Innovation Officer, Redwood. "By leveraging Redwood and FreightWaves SONAR, OTM customers have access to a cheat sheet of actionable data and market information to negotiate with. It's like playing poker, but you can see all the other players' cards."
Current Oracle OTM customers can connect with FreightWaves SONAR by following a simple integration playbook. The streamlined onboarding and configuration process allow users to begin leveraging the integration and securing better rates quickly.
Any Oracle OTM customer interested in adding SONAR data to their environment should contact the FreightWaves SONAR team at sonar.freightwaves.com/contact.
Redwood SVP of Solutions Engineering Dan Gordon and FreightWaves Chief Revenue Officer Geoff Lochausen will also share more about the OTM and SONAR integration powered by RedwoodConnect at FreightWaves' "The Future of Supply Chain" conference during a fireside chat on June 22 at 2:30 p.m. EDT.
About Redwood Logistics
Redwood Logistics, a leading logistics orchestration and supply chain technology provider headquartered in Chicago, has provided solutions for moving and managing freight for more than 21 years. The company's diverse portfolio includes digital freight brokerage and flexible freight management all wrapped into a revolutionary logistics and technology delivery platform, known as a modern 4PL. Redwood utilizes an open platform for digital logistics that empowers shippers to seamlessly mix-and-match partners, technologies and solutions into their own unique digital supply chain fingerprint. Redwood connects a wide range of customers to the power of supply chain management, technology and the industry's brightest minds. For more information, visit www.redwoodlogistics.com.
About FreightWaves SONAR
FreightWaves is a price reporting agency (PRA) focused on the global freight market and the leading provider of high-frequency data for the global supply chain. FreightWaves' price, demand, and capacity data allow customers to benchmark, analyze, monitor and forecast the global physical economy.
FreightWaves' flagship SaaS product, SONAR, offers billions of data points on the global logistics industry, updated daily. The platform is used throughout the industry by capacity providers and organizations that contract with capacity providers to make informed and efficient decisions about how to route, manage and forecast their supply chains. For more information, visit www.sonar.freightwaves.com.
###
MEDIA CONTACT:
Tyler Thornton
LeadCoverage
tyler@leadcoverage.com