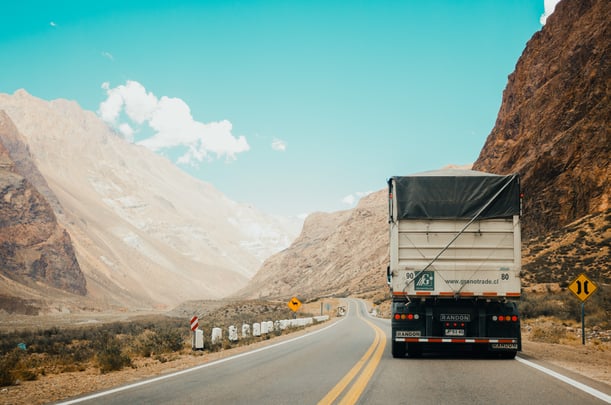 Whether you're a transport company or partnering with a shipping carrier, it's critical that you understand the intimate dynamics of the LTL industry.
While the dominating companies in the overall trucking industry are those with the biggest scale, this same principle doesn't actually hold true in the less-than-truckload sector. In fact, among LTL companies, the scale doesn't always equate to growth or revenue. Some of the fastest growing LTL carriers are small but powerful, like Mountain Valley Express and Redwood Logistics.
Below we go through facts about the major players in the LTL industry, and what this means for your business in 2018 and beyond.
The LTL Industry Is Growing.
In 2015 and 2016, the revenue of the 25 largest U.S. LTL trucking companies remained consistent at $31.8 billion, according to the JOC ranking. In 2017, though, this annual revenue for top companies grew 7.8% to $34.5 billion.
This growth in the industry is likely an effect of the trucking capacity crisis. Full truckload can't handle the capacity crisis, and LTL is stepping in as the solution to save cost and time. Because of LTL's efficiency, flexibility, speed, reduced cost, streamlined routes, and simplified shipping plans, more and more retailers are partnering with LTL companies.
The boom of LTL is also due to the increase in e-commerce companies. The number of smaller online retailers has exploded in the past two years. These retailers can't and won't invest in FTL shipping, preferring to send smaller quantities of goods with less-expensive LTL carriers. This saves them time and money while making their shipping more efficient and consumer friendly.
Because there are so many online stores, these e-commerce retailers need to find ways to compete with one another. Free, fast shipping has become the go-to competitive advantage. In fact, "free shipping" is becoming less of a differentiator and more of an industry norm. FTL does not allow for fast shipping, especially in today's capacity crunch. LTL is especially beneficial in the last mile and reverse last mile, which is an essential area for online businesses to master for their consumers.
LTL Companies Are Growing Rapidly.
The biggest LTL carriers keep getting bigger, with no intention of slowing anytime soon. The largest LTL carriers are FedEx Freight, XPO Logistics, and Old Dominion. FedEx and UPS are the two significant players for cross-border and small parcel shipping.
The other top LTL companies, which are constantly increasing their revenue, include:
• YRC Freight
• Estes Express Lines
• ABF Freight System
• YRC Regional
• R+L Carriers
• Saia LTL Freight
• Holland Freight
• Southeastern Freight Lines
It's important to know the top LTL players in the industry because they account for 82.8% of the top LTL revenue. The top 11 carriers are often referred to as the "billion-dollar club" because they so strongly dominate the market. For example, FedEx Freight—the largest LTL carrier—had $6.34 billion in revenue last year. XPO Logistics followed with $3.641 billion and Old Dominion had $3.304 billion.
Learn more about the largest US LTL carriers by revenue here.
Canada Is A Significant LTL Participant.
We can't forget about our LTL counterparts to the north. The Canadian LTL industry is one of the strongest in the world, and "over the border" LTL transport is common between Canada and America.
The Canadian LTL industry has been consolidating with TFI International, Day & Ross Freight, and Manitoulin Transport. These are the dominant players both in Canada and across the border. Other noteworthy Canadian LTL carriers include Maritime-Ontario, TransX, and Midland Transport.
Don't neglect these other North American giants when considering the future of the LTL industry. Border crossing and international transport is likely the next step in the future of trucking.
LTL Is Moving Away From Unions.
The top LTL carriers in the U.S.—FedEx, XPO, and Old Dominion—are all non-unionized carriers. This is critical to note since trucking unions have been a hot button of conversation for many years.
Unions have been used to "protect" the rights of truck drivers. However, with new routing systems, AI technologies, and ELD implementation, truck drivers are going to have a better quality of life than ever. Unions may not be as critical when technology steps in to improve the trucking experience.
For example, self-driving trucks will allow more admin work (and sleep) while on the road, and artificial intelligence and IoT will predict and analyze routes for driving optimization.
Technology Is King.
Technology is driving the growth of the LTL industry. The major and growing LTL carriers are those that invest in new technology to reduce costs, optimize capacity, and expand their network. For example, YRC Freight implemented new pickup and delivery technologies in their smart warehouses to meet their expected 2018 summer capacity increase.
LTL companies that implement technology are seeing significant benefits over their non-tech counterparts. Learn more about tech advancements in the industry and how the major LTL players are using them with some of our following resources:
• What Are The Advantages Of Blockchain For Your Supply Chain?
• Supply Chain AI – Is Your Company Ready?
• Smart Warehouses And Inventory Management
• Last Mile Technology
• RFID In The Supply Chain
• The Robot Anchor: Is Automation The Future Of The Last Mile?
• How AI And IoT Can Change Transportation Management
• Self-Driving Trucks: What's The Future For America's Truck Drivers
3PLs Are Transforming Into 3PTLs.
Third-party logistics (3PLs) companies are starting to focus more and more on the LTL sector. This has created the affectionate new nickname 3PLTLs (third party LTLs). Third parties control about a quarter of the LTL market in the U.S. compared to major retailers.
Why is this so important? 3PLs are the "small business" of the transport world. The economy needs small business to thrive in the same way that transport needs third-party companies. This drives competition and innovation in a way that improves the entire industry. In fact, 3PLs are single-handedly improving the trucking capacity crunch.
3PLs also have a significant impact on the relationship between shippers and carriers. They focus on the customer experience, creating unique business models and sales strategies as a way to interact with their clients. This sort of personalization appeals to the increasing number of online retailers.
It's also important to note that a number of major LTL players are beginning to acquire or purchase smaller 3PLs. This provides the larger players with greater assets, a larger network, and a more "personalized" reputation. Acquisitions are becoming more and more popular, which is something to be mindful of for the future of LTL.
Conclusion
Today's major players in the LTL industry are those that are optimizing changes in the transport marketplace. While the key players are continuing to grow, smaller 3PLTLs are also inching their way up through new tech advancements and advanced know-how in the industry.
Although the billion-dollar club dominates the LTL sphere, don't neglect the up-and-comers like Redwood Logistics.
We are paving the way for the future of the LTL industry with tech advancements, lean initiatives, streamlined supply chain processes, and a focus on customer service.
Want to connect with one of the fastest growing companies in the LTL industry?
Whatever your transport needs, we're excited to create solutions that will streamline your business and optimize your profits!
Contact us now to get started and drive into the future.