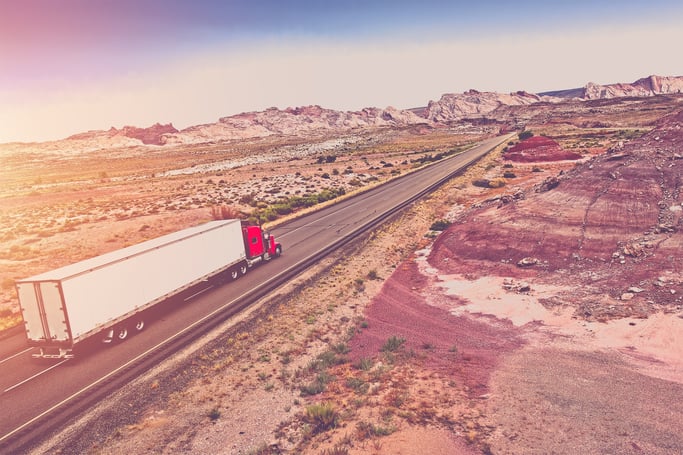 LTL, or less than truckload, shipping is the transportation or shipment of small freight. LTL shipping is the in-between shipper for parcel shipments that can be sent through the postal service, UPS or FedEx, and full truckload shipping. Parcel carriers can typically only handle packages that are less than 150 pounds, and full truckload shippers move freight that must be transported by 53-foot semitrailers.
LTL shippers usually transport loads that are over 150 pounds but less than 2,000 pounds or the equivalent of 14 pallets. There are many different perspectives to LTL shipping and what can be considered a less than truckload shipment. Full Truck Load carriers can transport several less than truckloads shipments from multiple companies and have a full truck; however, the shipments are still considered LTL.
The most common type of LTL shipping is done through common carriers who also handle freight. Some of the parcel carriers such as FedEx Ground and UPS have freight shipping options available and are also the most likely to accept non-palletized cargo.
When is LTL Shipping Used?
LTL shipping is most commonly used when shipping palletized cargo from a distribution center to a local terminal where the freight will be collected and consolidated for shipment to the retailers. This is called a hub and spoke operations. Pickup and delivery drivers in these LTL shipping operations usually have set routes where they are able to be home frequently and can develop professional relationships with the retailers they are delivering too. These relationships between drivers and retailers are essential for the customer service of your business and the trust the retailer has with their LTL shipping company.
Benefits of LTL Shipping
The most significant advantage of using an LTL shipping company for small freight transportation is the cost savings. LTL carriers can almost always transport small shipments for a fraction of the cost of hiring a truck and driver for an exclusive shipment. LTL shipping also tends to offer more services than Full Truck Load shipping such as liftgate service, residential delivery, freeze protection, inside delivery, notification of delivery times, and others.
Using LTL Shipping over parcel carrier operations also benefits the retailer or receiver because rather than having to break down shipments into small packages or boxes of less than 150 pounds each, they can palletize and shrink wrap the load, keeping all the pieces of the delivery together. This dramatically reduces boxes getting damaged in shipment, or lost.
How Did LTL Shipping Come About?
LTL shipping became popular after deregulation of the shipping industries in the 1980's. The Motor Carrier Act of 1980 resulted in intense competition over price and the ability for newer, low-cost truckers outside of the union to enter the shipping industry. Between 1980 and 1990 the number of available truck carriers doubled to over 40,000 and membership in the union dropped to only 28%.
Thirty years prior to this, the freight shipping industry was heavily regulated under the Interstate Commerce Commission (ICC) that was established in 1935. New motor carriers were required to seek a certificate from the ICC to operate. These carriers had to file tariffs that could be challenged by another carrier, particularly the railroad, and lead to a suspension of the tariff. In the late 1940's, Congress then opened the industry to fixed pricing which would exempt carriers from antitrust laws. The ICC effectively was able to deny applications for any new carriers to ensure a monopoly over the freight transportation industry to only a few operations.
Since the deregulation of the 1980's, brought about by the Nixon, Ford, and Carter administrations, LTL shipping has been able to generate tens of billions of dollars in revenue from freight transportation.
Finding An LTL Shipping Company
The best LTL shipping company should be able to offer competitive rates with lots of value and services to streamline your logistics processes. Not only should an LTL shipping company be able to provide you with LTL freight management, but they should be able to offer their customers live data analytics and reporting, contract negotiations since every shipment is unique, and be using the latest technology to be able to track and trace your shipments.
The most valuable aspect of a great LTL shipping solutions company is their ability to personalize your shipping needs and tailor transportation management software to fit their customer's needs. Each company's supply chain is going to work differently, and a freight shipping solutions partner should be able to consolidate all facets of your supply chain to make logistics easy and manageable whether you are using full truckload, less than truckload or parcel carrier for deliveries.
At LTX solutions, businesses will find all of these benefits and more. Contact LTX Solutions today to get started on your custom supply chain management solution.