It's been a bad year for Uber's self-driving division. After a tragic accident in Tempe, Arizona earlier in 2018, and a few recent hick-ups from its self-driving truck division, Uber has announced that it will be shutting down the self-driving truck division to focus exclusively on cars. However, this decision will not impact Uber Freight, a service that connects truck drivers with shippers via the Uber Freight app.
A Brief History of Uber's Self Driving Truck Division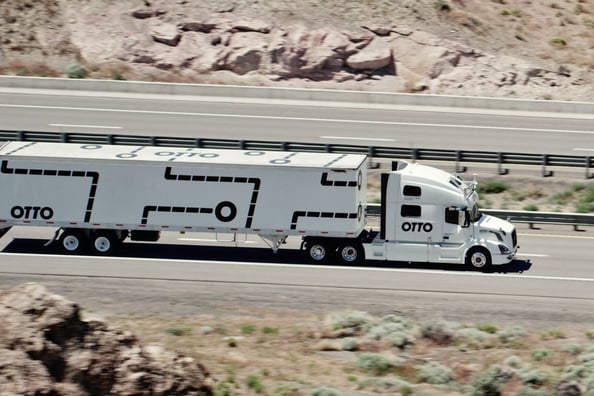 Uber entered the autonomous driving truck segment when it acquired a tech-startup called Otto in 2016. Uber began to rapidly test the self-driving trucks in Arizona, California and at Uber's test track located outside of Pittsburg in 2017. While initial testing was positive, the overall program has encountered a few rather large hick-ups.
Once Uber retained the rights to Otto's technology, an instant legal battle against Google over autonomous vehicle technology quickly evolved. The case essentially resolved around an accusation of stealing trade secrets from one company to another. While the case was quickly settled in February 2018, the PR impact was damaging to Uber. One short month later, one of Uber's self-driving Volvos in Tempe, Arizona struck a pedestrian – leading to her death. The case was a media frenzy and questioned the entire self-driving industry, stimulating debates about whether technology should replace a human driver.
While there were several possible sources of the actual accident, it was determined by Uber that it was best to shut down the program until the root source was discovered, and a solution could be found. Shortly after the accident, more than 100 people who were originally hired to 'ride' in these vehicles were terminated and decided to replace them with more tech-savvy individuals. Uber decided to resume testing on their private testing facility outside of Pittsburg in late July 2018.
Uber is not giving up hope on autonomous driving vehicles. In fact, many of the current employees of their truck self-driving division have been offered similar positions with Ubers automotive division, while others have been offered a separation package to find employment options elsewhere.
What About Uber Freight?
One of Uber's most successful entities is the Uber Freight App. Similar in many ways to their consumer app that connects consumers to Uber-contracted private drivers, the Uber Freight app connects private drivers or owner/operators with shipping companies and allows them to book with a pre-determined bid through the app. While in theory, this app seems logical and simple to use, it is not without faults or issues. Several drivers are hesitant about using the Uber Freight app. Many find it difficult to navigate and use the app, while others are not comfortable about the pricing – and providing a premium to Uber for the 'ability to connect' with customers.
Like any other app, there are growing pains, and they appear to be on the up-and-up. Load volume that is being transported through the app doubles each fiscal quarter, and a growth from three available geographical areas to the entire continental United States.
There is no denying the impact that Uber has on the automotive and transportation industry. However, they didn't have too much skin in the game to have a vast impact on this growing industry. Generally, the public and federal regulators have significant shortcomings and concerns about unmanned vehicles – especially large ones that control freight. These fears were enhanced in March 2018 with the Uber consumer accident in Tempe.
Recently the Alliance for Driver Safety and Security which represents multiple large freight companies is on record in opposing fully autonomous trucks. They believe, as do many others in the industry, that drivers or a human occupant are vital to making emergency decisions that can save a life. Another major contention is that drivers are important for making critical decisions for handling obstructions and detours on-the-fly, emergency situations, and extreme weather conditions.
There are a few advantages that autonomous truck driving offers the industry that should be carefully considered. First, self-driving trucks could result in a major cost-savings opportunity for shippers and carriers alike – due to reduced labor and driver training costs. Second, recent regulations such as the ELD Mandate would be rendered useless, as there would be no hours-of-service issues with drivers – which would increase the overall efficiency of freight logistics.
While the shutting down of Uber's self-driving truck unit is a major story, it's less likely to have a direct impact on the introduction of autonomous trucks in logistics. There is no denying that autonomous technology could revolutionize the trucking and logistics industry. However, until technology improves, and compromise is established throughout the industry, it's not likely to show up anytime soon.