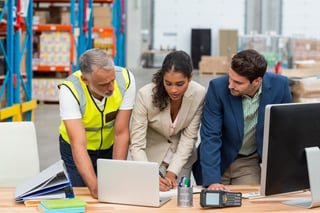 The Difference Between a Freight Management Company and a Freight Forwarder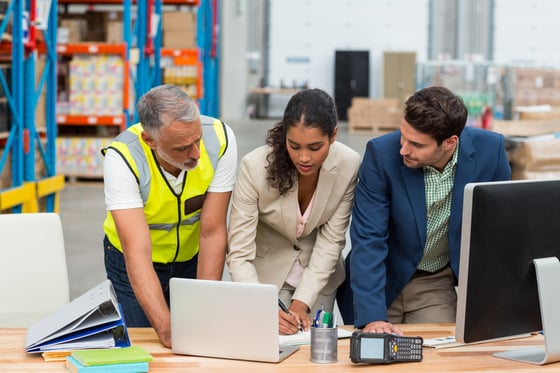 There is a ton of technical jargon in the logistics world – and quite often it can be self-inflicted. While acronyms like 3PL, LTL, FTL and more have a specific meaning, one phrase that often gets lost in translation is a Freight Management Company. By definition, freight management is the process of overseeing the process of the transportation of freight. There are several large shippers who depend on the professionalism and experience-level of a freight management company to not only oversee – but handle virtually every aspect involved in the logistics process.
While that description seems rather simple to understand, the confusion comes in comparing the difference between a freight management company and a freight forwarder. While there are several similarities with the two, there are multiple specific services offered that clearly articulate a difference that makes it clear why one of these organizations is more robust than the other.
What is a Freight Forwarder?
Moving commodities across the country or throughout the globe can be filled with policies, tariffs, paperwork, and pitfalls that can sink a company before they get their goods safely shipped. This is where a freight forwarding company can significantly assist the shipper. The process of freight forwarding is the coordination of shipping goods from one destination to another, using a single or multiple carriers to complete the shipment.
A freight forwarder offers a suite of individual shipping services from simply setting up the shipment, to tracking the cargo, booking the cargo carriers and space, negotiating freight handling charges, preparing the shipping documents and required paperwork, and also helping to file insurance claims if needed. However, a freight forwarder is simply a 'middle-man' – as they set up the shipping for you – but don't actually handle the freight.
What is a Freight Management Company?
A freight management company is also known as a 3PL or third-party logistics service provider. A 3PL is used to outsource some portions or your entire supply chain and logistics operation. The freight management company has a complete understanding of logistics, including the different carrier options, shipment methods, national and international regulations, insurance, and distribution services. A freight management company is typically hired to handle all aspects of a company's shipping and logistics needs – so they can focus on growth, sales, marketing, and customer service.
A freight management company can handle every part of your supply chain, from storing your goods for shipment, picking, and packaging, and multiple shipment methods from LTL, FLT, to parcel deliveries and overnight shipping if needed. A freight management company can also complete auditing services, so you can review all aspects of your logistics program to find ways of streamlining and making it more efficient.
What are the Benefits of Each?
Like most contracted services, there are some benefits that freight forwarders and freight management company's offer their customers. A freight forwarder, for example, comes in quite handy for an organization who has experience in shipping and logistics but could use a hand with special types of shipping, such as cold supply chain, international shipping, or hazardous material shipping. Many freight forwarding companies are exceptionally strong at relationship building with carriers – which tends to allow them to negotiate exceptional rates on behalf of their clients.
The 3PL or Freight Management Company is beneficial for a company who has very little experience in logistics or would rather allocate these services to a proven expert. The truth is that logistics is a complex industry, that requires precision, planning, execution, and follow-up to ensure everything is handled professionally. When a 3PL is trusted to handle all aspects of your logistics network, you'll typically notice improvements in shipping delivery times, reductions in inventory problems, and more satisfied customers.
The most important thing to remember is that there are some freight forwarder's and freight management companies who are better than others in their segment. If you're trying to determine between a freight forwarding service and a freight management company, the most important thing to remember is to choose one that best suits your individual company needs and goals.