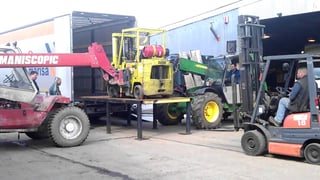 How Shipping A New or Used Forklift with Third Party Logistics (3PL) Can Help Your Business
Shipping a forklift seems like a complex process but, it is not as problematic as one may think. Sure, everyone can ship a package in a box, but when it comes to shipping a forklift many people are left scratching their heads.
Most businesses have some type of material handling a machine like a forklift they may need to move to other locations and since many companies use these machines it is important to know how a 3PL can help. A 3PL company can be an asset to any forklift company, equipment dealership, or business that uses forklifts and needs to move them for the following reasons.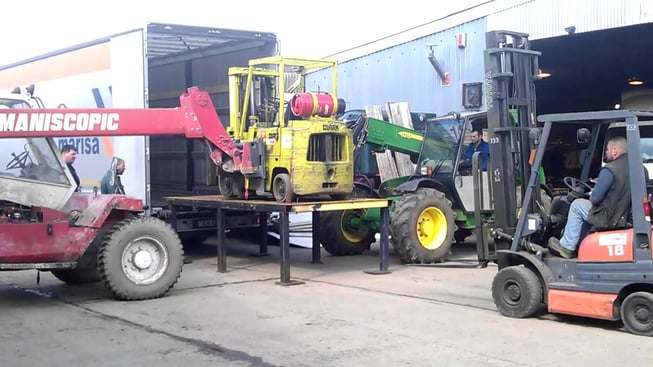 Expertise
A 3PL company solely focuses on transportation. Their representatives will know which questions to ask about your forklifts to accurately gauge the best way to transport them. A 3PL will set up all permits and details to move the forklift, and associated attachments and batteries from point A to point B. A 3PL will also know how to correctly ship an electric forklift with an industrial battery installed or on its own. Forklifts can be oversized at times, either too tall, wide, or heavy and a 3PL can advise on how to best move that type of machine. The 3PL company will handle the pickup and delivery of the forklift and will ensure on-time delivery.
Cost Management
According to Steve Syfan of Syfan Logistics most companies who manage their own shipping departments can reduce their transportation costs by five percent, and as much as twenty-five percent in some cases by switching to a 3PL. The company switching would not have to burden the costs of fuel, salaries, maintenance, and any overhead of owning their own fleet. A 3PL company can reduce their shipping rates due to shipment volume and economies of scale.
Managing Risks
A quality 3PL will be able to mitigate risks for a business interested in transporting forklifts. 3PL employees are well trained and experienced in the industry. Everyone from customer service, administration, to the drivers will know how to do their job effectively. Experience is the main factor here. Drivers and dispatchers will know how to safely secure the load, how to properly drive a forklift on and off the trailers, and complete all necessary paperwork for overweight permits and hazardous materials. However, some 3PLs may not be as familiar with shipping forklifts as others. If this is the case make sure the 3PL transporting your forklift asks these important questions. What is the weight? What are the dimensions? And what other materials will be shipped (batteries, LPG tanks, attachments)? These questions will make sure the company provides the correct truck from their fleet to safely ship your forklift.
How to decide if a 3PL company will work for you: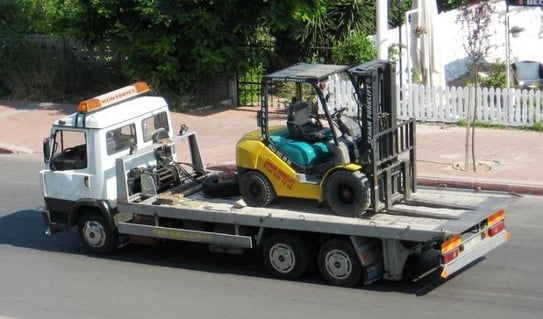 Factoring in the expertise of 3PL company, the costs, and budgets of a business, and the overall strategic goals of an organization will be the best way to decide which process will be followed for shipping and transportation. A 3PL company will reduce the headaches of transport and give your company time to focus on strategic goals. Whether the business is shipping new forklifts, used forklifts, or forklift attachments, a third-party logistics firm is a viable option for any business.