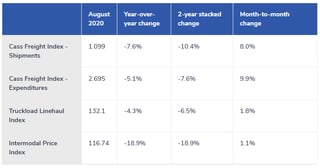 September Truckload Market Update: Freight Rates Climb as Inventory Hits New Lows
Lean inventory levels combined with elevated consumer demand continue to push freight rates up as shippers battle to get products to shelves on time with depleted capacity in the market. With rates exceeding all-time highs in September, and no apparent signs of slowing down, the upcoming retail peak season could be one for the record books.
In this post, we're deep diving into a few notable truckload events and trends from September, here's what will be covered:
---
1. Are trucking rates going up?
Quick answer, all signs point to yes. September was a record month as the imbalance of supply and demand in the marketplace was reflected in all-time rate highs across the three main transportation modes in truckload, less-than-truckload, and intermodal.
What's causing the surge in rates? Low inventory and a deficit in capacity.
According to the most recent Cass Freight Index August report, low inventory levels had companies paying premiums on imports, specifically on West Coast freight, leading into September. Rather than hold out on longer transit times for freight arriving from Asia to the East Coast ports, shippers are forking over more to ensure products arrive on-time and their shelves are stocked.
Cass Freight Index – August Report
West Coast Port Activity – August
Cass reported transportation spend had been the highest since December 2019, with expenditures outpacing volume due to capacity crunch.
Hikes in spend were also evident in the latest rate per mile (RPM) report provided by DAT. DAT reported a jump in September rates, with RPM reaching $2.37 compared to $2.22 in August. Capacity has remained tight as constraints on driver and industry supply continue to loom. National load-to-truck ratio was above five to one for eight consecutive weeks against heightened demand, according to DAT.
Along with record spend in September, inventory lows reached new depths dating back to October 2014. Census Bureau reported total inventory to sales levels were at a dismal 1.33, and retail came at 1.23. Both indexes indicate there is a tightened timeframe on the movement of goods as shippers do not have enough inventory to keep up with the ever-changing demands of consumers.
Carriers have taken advantage of the favorable market conditions as providers have shed non-desirable freight while raking in higher payouts per shipment. With no clear indicators of a drastic market shift, expect an inflationary trend to continue leading into Q4.
2. Labor Day shipping impacts
Labor Day proved to be a challenging day for shippers this year. For Redwood, we recorded our two largest days of spot quote opportunities on the Thursday and Friday before the holiday weekend.
Year in and out, Labor Day is always viewed as one of the more difficult transportation disruptions shippers face in Q3.
The ongoing shortage of available trucks in the market, coupled with a holiday where many carriers choose to sit out to enjoy the long weekend, proved to be a notable capacity constricted event.
3. DOT Week 2020: How did shippers fare?
With DOT Week 2020 occurring the week of the Labor Day holiday, this year's DOT Week had all the makings of a perfect storm shipping environment. Spiked demand, capacity reaching historic lows, mixed with International Roadcheck week, all bets were off for shippers trying to secure a truck, right?
Not really.
While freight volume was higher than 2019, and the event took place directly after a holiday, this year's DOT Week had a lessened impact on customers. Seemingly, customers were prepared for the rescheduled Roadcheck, and more carriers stayed on the road for high reward freight.
Fewer reports of driver shutdowns also played a part as COVID-19 deterred the number of inspections conducted due to health concerns.
4. Industrial production continues to trend upwards
In an economy that continues to make gradual strides towards recovery, industrial production appears to be following.
For the fourth consecutive month, U.S. industrial production ticked up to 101.4 at the end of August, a slight increase of 0.4% from July. Despite consecutive gains, production levels remain below pre-pandemic levels as well as 7.7% lower compared to this time last year.
It's still too early to call the timing of when production will reach pre-pandemic activity, especially with an election right around the corner. But the upward trend is encouraging for an economy working towards coming back online.
5. What can you expect in October?
Potentially, more of the same. The accelerated progress felt in September does not appear to be slowing down anytime soon, especially with peak retail season on the horizon.
As consumer sentiment rebounds and the general public grows more confident in the current buying conditions, we could see demand and price levels climb higher in Q4. This viewpoint comes with the caveat the outcome of the presidential election could sway the recent economic course and buyer assurance.
E-commerce is sure to play a role in the holiday gift season. The first notable event will be Amazon Prime Day taking place on October 13 – 14. Prime Day will be an early indicator of how well shippers can navigate the current landscape to fulfill digital orders from everyday consumers.
Current truckload conditions are tough, do you need help?
If you have truckload freight or supply chain technology needs, we are here for you.
Get in touch with a Redwood freight specialist.
Check back in next month for our October truckload market update; until then, make sure to explore our insights page to learn more about supply chain trends and strategies.