Just as last week's Redwood Report predicted, it's a carrier's market right now. Higher volumes, coupled with tightened capacity following the Labor Day holiday, are enabling carriers to pick and choose their routes. Adding to the challenges in the logistics market? A tough labor market is giving scarce drivers more power in choosing their routes. Speaking of labor, the entire US logistics industry continues to closely watch the negotiations between the United Auto Workers (UAW) and the Big 3 Detroit automakers. The September 14 deadline to reach an agreement is fast approaching. Depending on the outcome of these negotiations, we believe the power may begin to swing back to shippers next week as trucks get back into position after the Labor Day disruption — and more capacity frees up.
Read on for some deeper insights into what's driving logistics right now.
Watch This Week's Redwood Rundown
Join us every week for the Redwood Rundown, where EVP of Procurement Christopher Thornycroft shares his expert perspective on the US logistics industry. By spending just a few minutes with Christopher, you can develop a deeper understanding of the events and trends impacting your business:
Capacity Hits the Road
This week, we're facing the typical post-holiday challenge of repositioning trucks and drivers, creating a capacity issue that — as we predicted last week — has placed carriers firmly in the driver's seat. Coupled with an uptick in seasonal volumes, the capacity shortage is enabling carriers to pick and choose routes and/or demand higher rates. The Outbound Tender Reject Index (OTRI) sits at 4.31%, the highest level since January — but still reflects a market that requires carriers and brokers alike to accept as much contract freight as possible. Why? There's an ongoing high spread between contract and spot rates. In August, that difference was $0.49 a mile, making it the seventeenth straight month we've seen a spread greater than $0.47. This has led to a massive increase in enterprise-level carrier hirings, which should drive down rates over time.
The Driver Shortage Continues
Last week, the Bureau of Labor Statistics showed long-distance truckload employment decreasing by 1,800 month-over-month — and remaining effectively flat year-over-year. As contract rates fall, and other growing industries like construction attract workers, we expect the driver shortage to only worsen. Drivers that remain in the business will become increasingly picky on routing guides, driving OTRI higher and pushing freight to the spot market. The longer the shortage continues, the more sensitive the logistics market will be to major events such as natural disasters that upend routing guides built on paper rates.
All Eyes Are on Detroit
The September 14 deadline is almost here to reach a deal between the United Auto Workers (UAW) and the Big 3 Detroit auto makers — General Motors, Stellantis (formerly Chrysler), and Ford Motor Company. As we go to press with the Redwood Report, Stellantis has made a major move, but will it be enough? Will GM and Ford follow suit? Since any strike will have an enormous and immediate impact on the overall US economy and the freight market, we should all be closely watching the events unfolding in Detroit over the next week.
Expect a Short-Term Swing Back in Shippers' Favor
The major news this week has been the impact of repositioning capacity across the country. We believe the market has largely felt the brunt of this impact and should cool considerably as trucks regain their regular positioning. Looking ahead to next week, we see a market that will begin to be dictated by shippers as capacity improves across much of the country. It's difficult to project seasonality with an impending large-scale strike looming, so let's all stay tuned to see where the market heads over the longer term.
Top 3 Charts for the Week
The Rising OTRI
In the wake of disruptions associated with the Labor Day holiday, the Outbound Tender Reject Index (OTRI) continues to rise. Carriers are in the driver's seat, but watch for this situation to shift as we move further out from Labor Day.

Data used with permission from Freightwaves.
DAT National Load-to-Truck Ratio
The national load-to-truck ratio is also feeling the short-term impact of supply-side pressures.

Data used with permission from DAT Freight & Analytics.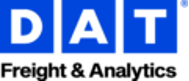 Effects of the Continued Driver Shortage
As the truckload employment rate continues to decline month-over-month, we're seeing the impact on both freight capacity and rates.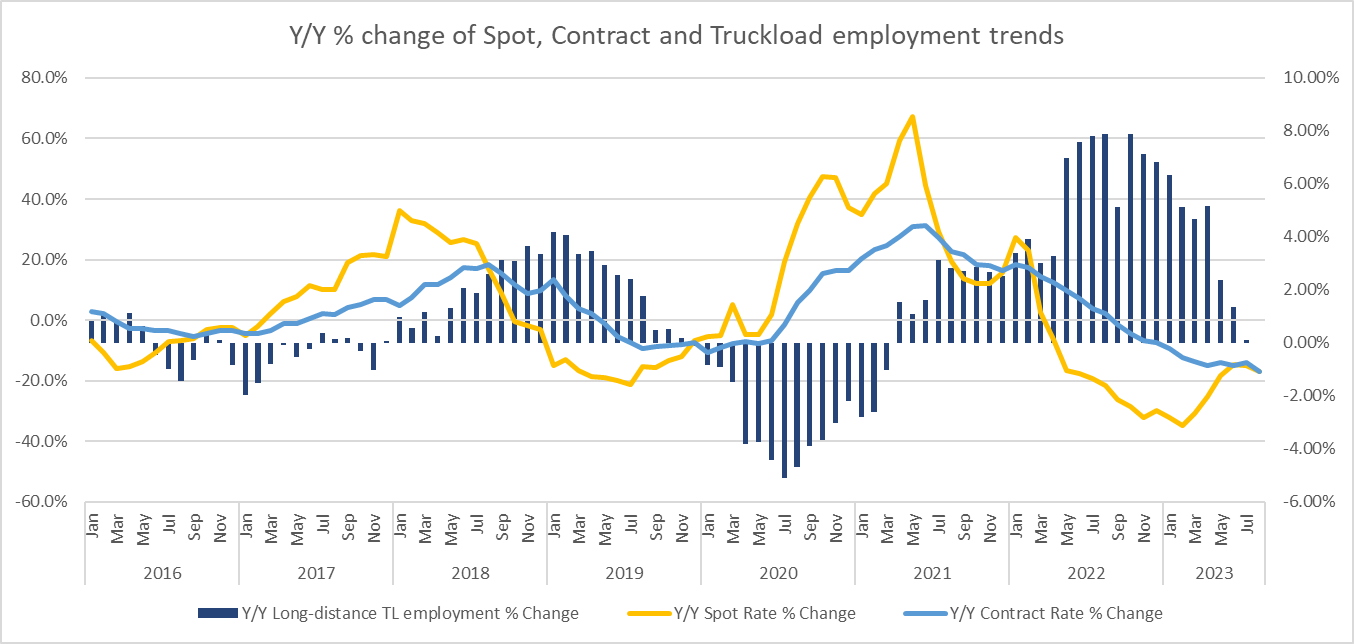 Get Up to Speed with Weekly Market Intel
Follow the Redwood LinkedIn page to watch Christopher Thornycroft's insightful Redwood Rundown video every Tuesday. To learn about industry trends and gain intel, you should also check out our insights blog which features the weekly Redwood Report and other news!