As the United Auto Workers (UAW) strike enters its sixth week, the union is ramping up its efforts by targeting the most profitable plants of the Big Three automakers. Will these extreme tactics work, ending the strike? That remains to be seen. But it's certain that the strike continues to devastate both automotive supply chains and the US freight market, pushing volumes lower every day. There's barely a difference between contract rates and spot rates, which means we're seeing carriers struggle and continue to exit the market. Shippers can take advantage of these market conditions by repricing their routing guides to seize the moment. Overall, the freight market is cool, with an excess of capacity and the lowest national DAT Load-to-Truck Ratio since April. The UAW strike continues to significantly impact many regions of the country, from the Midwest to the US-Mexico border. Los Angeles remains a hot spot, thanks to holiday imports, and is even pulling capacity from nearby markets. What does the future look like? Unless the strike ends soon, unfortunately we can expect more of the same.
Read on to learn more about this week's industry outlook.
Watch This Week's Redwood Rundown
Each week, the Redwood Rundown showcases expert insights from EVP of Procurement Christopher Thornycroft. Spend just a few minutes with Christopher, and you'll gain a deeper understanding of the news and events impacting your business this week:
The UAW Ramps Up Its Weeks-Long Strike
There was partial resolution in the UAW strike with Ford and the union announced they had agreed to terms on a new deal. Suppliers shipping to the Kentucky truck plant, Chicago assembly plant, and Michigan assembly plant were being notified to resume production as of Friday, October 27th even though the tentative deal has yet to be voted on by the union. With this in place it is highly likely that a resolution will be reached with GM and Stellantis soon as well. An ending to the strike should provide a slight bump to spot rates fairly quickly, though a larger increase to spot rates is not expected until the week following Thanksgiving, and with supply still oversupplied, that bump in rates could be short lived.
Prior to the Ford deal, the UAW had accelerated its strike announcing plant closures in Arlington, Texas, and Sterling Heights, Michigan. The General Motors plant in Arlington produces large, highly profitable SUVs such as the Chevy Tahoe, GMC Yukon and Cadillac Escalade. The Stellantis factory in Sterling Heights produces the Dodge Ram pickup truck. Hitting high-profit plants was a signal that the strike is drawing nearer to a resolution, and the union was using these extreme measures to gain some final concessions from the Big Three US carmakers. The impact of these new assembly plant shutdowns has been felt deeply across the Midwest, with shockwaves running through automotive supply chains, grinding volumes lower each day.
LA Remains a Hot Spot in a Generally Cool Market
In market specifics, we continue to see a strong market from California with Los Angeles (5.1 to 1) volumes staying steady through October. We've seen volume growth in neighboring markets of Phoenix (2.6 to 1) and Northern California (San Francisco 3.9 to 1), indicating that the pressure is real out of LA and the strong volumes are pulling trucks from these smaller markets. The Pacific Northwest continues to see strong volumes, particularly out of Portland (3.5 to 1), with the greatest risk seen in rural markets such as Twin Falls, ID (13.2 to 1) and Medford, OR (18.8 to 1). Most other markets are very oversupplied against demand, though, as the DAT Load-to-Truck Ratio has dropped all the way down to 2 to 1, reaching lows not seen since April. Chicago (1.22 to 1) and the Midwest in general have become a backhaul market during its otherwise peak season. The Big Three Automakers have their hands tied with one of the largest manufacturing strikes in recent memory. Volumes are shrinking in the face of seasonality over the Midwest from Detroit (1.2 to 1) to Indianapolis (1.5 to 1). Seasonal tightness usually comes to the markets of Minneapolis (2.7 to 1), Green Bay (3.9 to 1) and Cedar Rapids (2.8 to 1) in the coming weeks — first, during harvest season and then later in November, when hunting season begins. The Mid-South has also been heavily impacted by the UAW strike on the Texas/Mexico Border (Laredo 1.5 to 1) and Dallas (2.2 to 1), where a General Motors factory is the latest to experience a strike. Over in the Northeast, we see the area continue to fall off from Edison, NJ (2.2 to 1) to Baltimore, MD (2.1 to 1) and Buffalo, NY (2.4 to 1) to Harrisburg, PA (2.0 to 1). The same can be said for the Mid-Atlantic from Richmond (1.6 to 1) down to Charlotte (2.0 to 1), and from Atlanta (1.4 to 1) down to Miami (1.4 to 1).
The Future Holds More of the Same
Traditionally, we would see a slight volume push for the end of the month, before a general loosening in the market to begin November. Seasonal capacity tightness is typically seen in Iowa, Arkansas, Kansas and other smaller markets in the Midwest and Great Plains. This year, we still expect some additional volume to enter the market, but not enough of a push to lead to a meaningful tightening of capacity outside small pockets of the country.
Top 3 Charts for the Week
The UAW Strike Spreads...Then Begins to End
The United Auto Workers strike expanded to new locations this week, increasing the negative impact for the US freight market.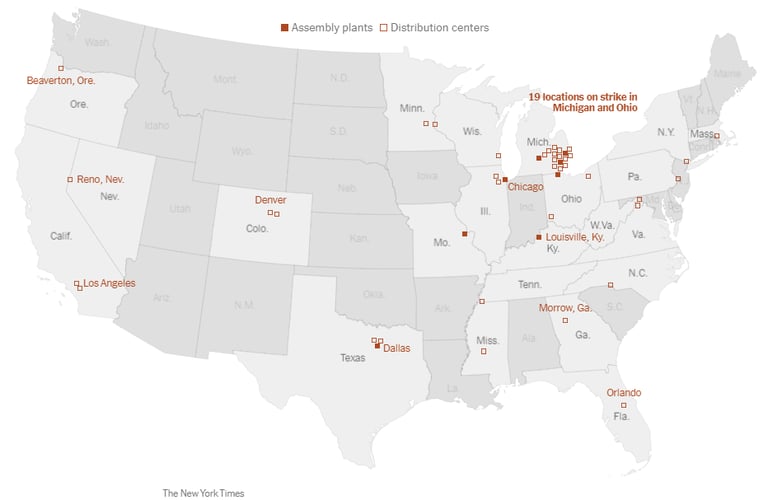 The Load-to-Truck Ratio Drops
This week the DAT National Load-to-Truck Ratio dropped to 2:1, its lowest level since April.

Data used with permission from DAT Freight & Analytics.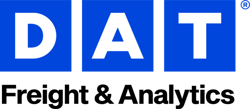 The LA Market Remains Strong
In an otherwise cool national market, Los Angeles continues to see high freight volumes fueled by imports.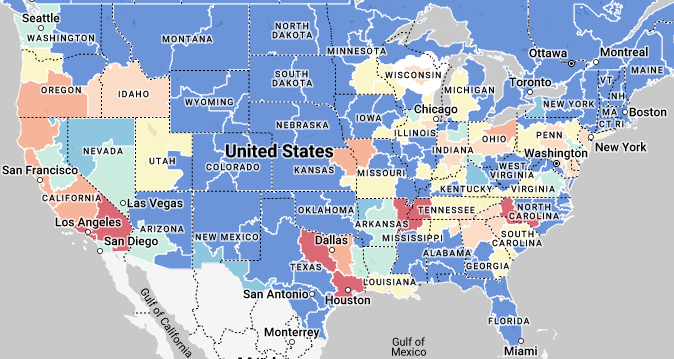 Get Up to Speed with Weekly Market Intel
Want to keep your finger on the pulse of the US logistics market? Follow the Redwood LinkedIn page to watch Christopher Thornycroft's insightful Redwood Rundown video every week. You can also read our insights blog to learn about industry trends and gain intel, including the weekly Redwood Report!