We've arrived at the end of the second quarter, which brings at least some level of challenges to logistics providers each year. This year we continue to see near historically high tender acceptances as brokerages look to hold on to valuable contract freight, limiting opportunities for the spot market. A new quarter brings new contract awards to logistics providers with this year seeing the lowest priced contract rates the market has seen in nearly three years.
Plenty to look at as we head into Q3 and the Fourth of July holiday.
---
Watch This Week's Redwood Rundown
As we hit the end of the second quarter, markets are still muted, but will the Fourth of July holiday bring any change? EVP of Procurement Christopher Thornycroft gives his predictions for both pre- and post-holiday impacts in this week's 5-minute market update:
[embed]https://vimeo.com/840231823[/embed]
---
Fourth of July Market Impacts
The Independence Day holiday will bring challenges to carrier capacity as drivers look to get home for the holiday. This will result in a weeklong post Fourth of July market repositioning of drivers, creating inevitable service failures to low-price shippers.
Last year the continued softness of the market for the Memorial Day and Fourth of July markets were indicators for us for the rest of the year as to what the patterns of supply/demand balance would generate in the spot market, and plans were made for a relatively soft spot season. So far this year we have felt the repositioning pain in the post-Memorial Day market, and the post Fourth of July repositioning will be a strong barometer for the impact on future events such as Labor Day (Sept. 4) and the Thanksgiving/Christmas/New Year's holidays on the spot market.
---
Panama Canal Drought Presents Latest International Shipping Curveball
The Panama Canal remains in a historic drought which has forced the country to slow traffic, limiting the weight and volume of container ships for the foreseeable future. Nearly 40% of all containerized imports and exports from the U.S. make their way through the Panama Canal each year as it remains the most cost-effective shipping lane for Asia to U.S. East Coast and eliminates transit time on the route by nearly a week.
Although the last 18 months of import projections have been about the shift from the West Coast to the East Coast ports, a titanic shift back towards the West Coast could be underway from this drought. This will be slow moving as the international shipping patterns can take months to reorganize, but a surge of West Coast freight will challenge a California environment for the first time since the AB5 ruling went into effect, exasperating capacity in the region.
---
Top 3 Charts for the Week
1. FreightWaves Outbound Tender Rejection Index (OTRI)
It's not 5% yet, but we've seen some upward movement on the OTRI (3.69%) over the last two weeks, which suggests that as capacity is shed, we will continue to see natural pressure mount on the contract rates.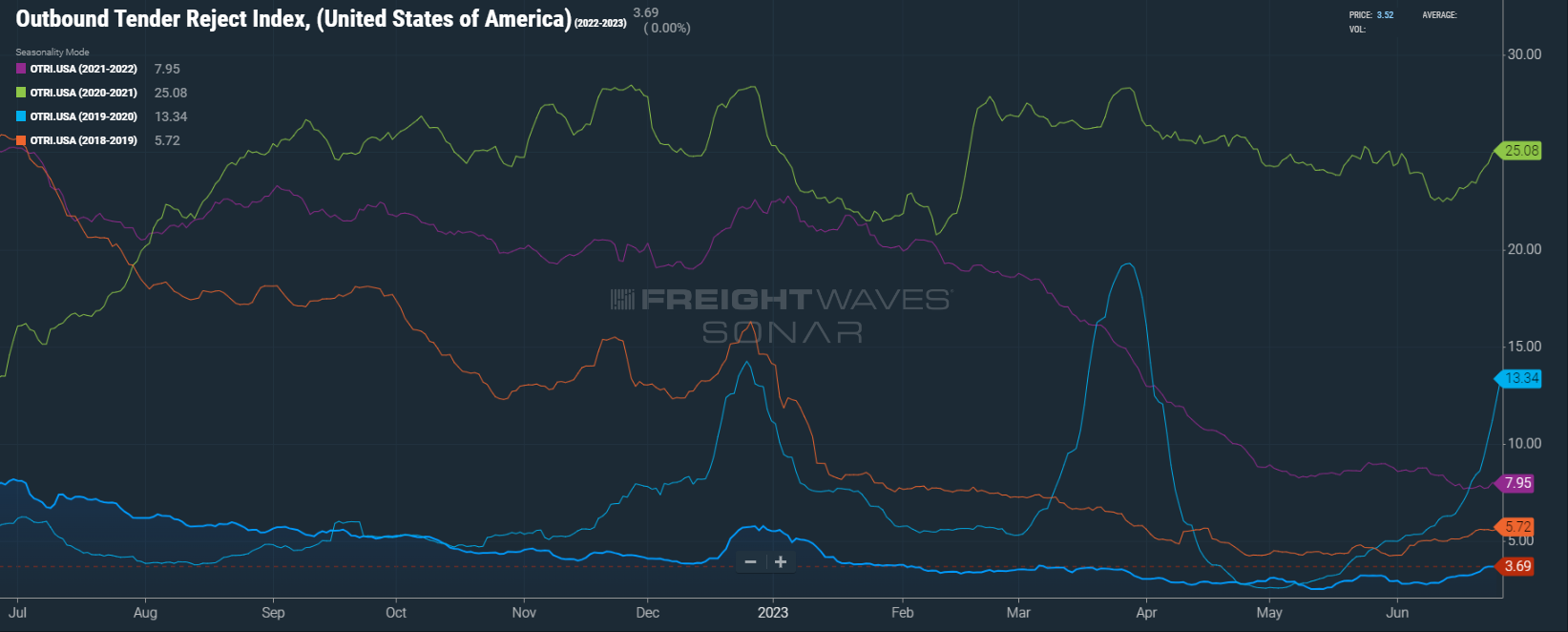 Data shared with permission from FreightWaves
2. DAT National Load-to-Truck Ratio
Like the OTRI, the load-to-truck ratio indicates a slight uptick, particularly in the reefer segment (3.71 to 1; blue). While it's been an unseasonably weak produce season in the Southeast (see next chart for more on that), it's still brought a squeeze to some markets ahead of the Fourth of July holiday.
Data adapted into map format with permission from DAT Freight & Analytics.

3. USDA Year-over-Year Percentage Change in Domestic Produce Shipments
As illustrated above, produce season has pinched some markets, but in terms of year-over-year volumes, domestic produce shipments are down 18.3% overall, particularly pronounced against a seasonably strong mid-June in 2022.
Data from U.S. Department of Agriculture Specialty Crops National Truck Rate Report
---
Stay in the Loop with Weekly Market Intel
Be sure to follow the Redwood LinkedIn page to catch our Redwood Rundown videos on Tuesdays, and keep checking back to our insights blog for these weekly deep dives.