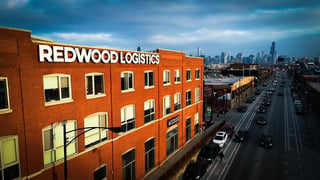 Redwood Logistics Named Top 3PL and Cold Storage Provider by Food Logistics
-Redwood's unique ability to blend the physical and digital supply chains a boon for food shippers in 2023-
CHICAGO – June 8, 2023 – Redwood Logistics (Redwood), one of the fastest-growing supply chain and logistics companies in North America, today announced the company's recognition from Food Logistics as one of the top third-party logistics (3PL) and cold storage providers in the industry. The company's commitment to overcoming food and beverage shipping disruption with innovative technology and reliable carrier capacity has propelled them to the forefront of the logistics sector.
Redwood has a suite of services combining proven 3PL logistics execution services and fourth party logistics (4PL) supply chain technology orchestration capabilities, eliminating the complexity and risk of building and running a digital logistics network. By leveraging Redwood's modern 4PL solutions, food shippers can expand the visibility and insights they have into their freight. From warehouse and reefer trailer temperature to real-time driver status and light exposure, food shippers have all the data they need at their fingertips.
"Technology transformations often prove to be risky, complex, and time-consuming for shippers. SaaS 4PL technology delivers flexibility but has been unable to bridge the divide between the physical and digital supply chain connection points; a reality only exacerbated by unpredictable disruption," said Mark Yeager, CEO of Redwood Logistics. "Our simplified technical approach to overcoming disruption, backed by our 4PL methodology, means that food shippers have the insight, usability and visibility they need to move time-sensitive freight reliably."
Redwood's evolution to becoming a modern 4PL provider has only grown due to the complexity of our customers supply chain needs. Eric Rempel, Chief Innovation Officer at Redwood Logistics, added, "We have transitioned from solely being a logistics execution provider to a comprehensive supply chain technology orchestrator. By leveraging our 4PL approach, we empower shippers to seamlessly integrate partners, technologies and physical solutions into their supply chains."
Redwood operates five strategically located warehousing/distribution facilities across North America, including Mexico, offering a total warehousing space of one million square feet. Currently, Redwood's warehousing services include inventory management, refrigerated trucking, cross docking, pick/pack assembly, USDA/FDA inspection and more. The company continues to invest in technologies such as warehouse management (WMS)/transportation management (TMS) software integrations and track-and-trace capabilities, ensuring the highest quality and level of end-to-end visibility.
"Redwood is dedicated to overcoming the challenges faced by food shippers, especially where their physical and digital supply chains meet," added Yeager. "Our innovative solutions and technology-driven approach allow us to provide seamless, fresh, reliable and efficient services to our customers, across all industries."
Redwood also recently landed on Food Logistics' Top 100 Software and Technology Providers list, and SVP of Business Development Brad Kosner was also named a Food Logistics "Rock Star of the Supply Chain" for his global cold food supply chain achievements.
Recipients of this year's Top 3PL and Cold Storage Providers award are profiled in Food Logistics' May/June 2023 print issue. View a full list of winners at https://foodl.me/9191gr.
About Redwood
Redwood Logistics, a leading logistics orchestration and supply chain technology provider headquartered in Chicago, has provided solutions for moving and managing freight for more than 21 years. The company's diverse portfolio includes digital freight brokerage and flexible freight management all wrapped into a revolutionary logistics and technology delivery platform, known as a modern 4PL. Redwood utilizes an open platform for digital logistics that empowers shippers to seamlessly mix-and-match partners, technologies and solutions into their own unique digital supply chain fingerprint. Redwood connects a wide range of customers to the power of supply chain management, technology and the industry's brightest minds. For more information, visit www.redwoodlogistics.com.
###
Media Contact
Tyler Thornton
LeadCoverage