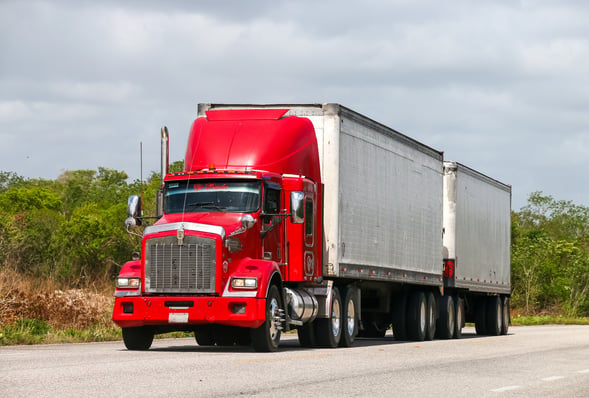 In the complex over the road logistics world, shippers have more choices than ever. Whether you have a single package to ship or several pallets, carriers are quite flexible in order to meet the evolving needs of shippers navigating the supply chain. However, when it comes to truckload shipments, there are three, general options, Partial Truckload, LTL, or FTL. Each one offers shippers unique benefits and different opportunities for success.
Noted below, we'll dig deep into what each service is, who would benefit from the service, and some general facts about these over the road shipping methods – so you can make an informed decision.
LTL – Less Than Truckload
The less than truckload over the road shipment is pretty much explanatory. Shippers will choose this method if they need to ship larger commodities (such as pallets or larger) but the volume of shipping will not fill the standard 48' cargo container. However, there are several shipping requirements that need to be followed in order to book an LTL shipment. Here are a few of the most important things to remember about LTL over the road services.
• The average LTL shipment will fall under 10,000-pounds of total weight and range from one to six pallets in size.
• Billing is typically unstructured due to the complexity of LTL transportation services.
• If multiple deliveries or pick-ups are required, it can impact the overall cost of shipment as it equals more handling of the product.
• Primary factors in billing include the point of origin, destination, weight, and pallet count.
• Refrigerated LTL shipment is possible but with limited flexibility. Most cold supply shipments are planned in advance and scheduled for route optimization.
FTL – Full Truck Load
The Full Truck Load or FTL shipment is typically a more cost-effective way to transport a large volume of freight to a single recipient. While there are carriers that will permit FTL shipments with multiple stops, most shippers choose the FTL option for point-to-point delivery. What is not commonly known is that the entire cargo container does not need to be filled in order to book an FTL shipment. Here are some of the details and facts about FTL.
• The average truckload shipment includes 24 or more pallets with a total weight of 20,000-pounds or more.
• The FTL is usually a single pick-up and single-delivery shipment. This permits quicker delivery times and reduced freight damage potential.
• Shipping rates are negotiated with carriers and the shipper with FTL. In most cases, the two parties will create a contract for FTL shipments for a pre-determined period of time. There are several factors that will determine the FTL rate including the carrier, shipping weight, destination, and frequency of services.
• Most shippers consolidate their shipments to comply with FTL standards in an effort to save money and to optimize efficiency.
• Temperature controlled FTL carriers are more available and flexible than LTL. However, they are restricted to shipping with a single temperature setting in most cases.
Partial Truckload
So – if you're a shipper who doesn't have the volume to justify an FTL but is not a fan of the lack of flexibility with LTL, you might wonder if there is a middle ground. Fortunately, the Partial Truck Load is an exceptional blend of both worlds. There are several requirements and facts about Partial Truckload shipments that all potential shippers should understand.
• The general "sweet spot" for Partial Truckload services ranges from six to 18 pallets that weight between 10,000 to 20,000-pounds.
• The Partial Truckload rates are determined based on multiple factors, but in some instances, the shipper will have to pay a truckload rate. It's important to get an accurate estimate for Partial Truckload before booking it – which is where using a professional 3PL is quite beneficial for a shipper.
• There tends to be less freight movement with a Partial Truckload since carriers typically do not use a cross-dock facility with these services.
• The main drawback is that Partial Truckload services are not all-inclusive by each carrier. In fact, many carriers don't offer this service – yet.
The key to determining which over the road mode is best for you is to consult with a professional 3PL who can help you navigate the complex logistics landscape.