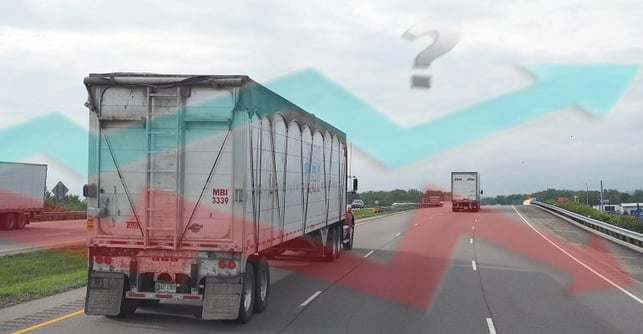 2018 is shaping up to be the year of Less Than Truckload (LTL) shipments. With a nationwide shortage of trucks, the volume of freight loads far outweighs the availability of carriers.
Due to such high demand, retailers and manufacturers are faced with extensive delivery times and exorbitant prices. Shippers have been forced to pay high premiums to ensure delivery, or they must sacrifice customer service and shipping times.
According to DAT Solutions, January week three 2018 had 10 loads waiting to be moved for every 1 available truck. Spot market prices for dry vans are also up 30% year-over-year and are expected to rise up to 8% this year.
What's causing this truck shortage, and what can you do about it?
What Caused the Truck Shortage?
1. Increased Freight
E-commerce exploded at the end of 2017. Online sales grew 18.5% in December 2017 alone. The entirety of 2017 saw a boom of e-commerce with total online sales at $452.99 billion, up 16.2% from 2016.
An increase in online sales brought an increase in transport in tandem. Many carriers were overwhelmed by the influx of holiday season orders. There weren't enough trucks to meet the retail orders.
This backup has bled over into 2018, causing an ongoing freight management calamity. The increase in freight alone would cause a shortage that could take months to overcome—even if there weren't other factors involved in this severe shortage. With the other variables, this backup only deepens.
2. Unpredictable Weather
The "bomb cyclone" caused the closure of roads and ports for days. Even one day can create a significant backup that lasts months in the trucking industry. Unpredictable weather patterns are causing port, loading, and traffic delays.
Along with an increase of freight, this weather created the "perfect storm" for delays and capacity shortage.
3. ELD Mandate
The new ELD mandate went into effect in December 2017 as well. As companies and drivers were adjusting to the new technology, some trucks became incapacitated or interrupted. This learning curve further exacerbated delays to create a triple whammy of high demand and low supply.
4. Reverse Logistics
Post-holidays is returns season. For online shoppers, this means going to the local carrier and sending their items back to retail warehouses via truck. With transporters still working to figure out streamlined reverse logistics, especially for the last mile, these returns are an expensive process that holds up trucks without financial return.
5. Reduced Truck Volume
Fewer trucks are making it to the roads due to heavy traffic jams in ports and loading docks. Moreover, temperature-controlled trucks are especially high in demand, but low in supply due to cost and production. A shortage of refrigerated trucks coupled with reefer organization and scheduling concerns, shippers are severely struggling to ship perishable items in a timely way.
There simply aren't enough trucks on the road to meet the nationwide freight need.
What Does the Future Hold?
The increased freight that came with 2017 is not backing down in 2018. In fact, experts predict that e-commerce will only continue to explode this year.
In fact, as the spring approaches, retailers are expecting a pickup of orders. Shippers are already struggling to meet the demands of backups and post-holiday orders; adding an influx of orders could result in even greater holdups.
Moreover, it's expected that the ELD mandate will be heavily reinforced in April. Any vehicles without an ELD may be removed from the road. This will cause an even deeper shortage of trucks paired with a greater increase in orders.
What Does this Mean for Shipping?
Trucking fleets are working to add more capacity, but it could take months or even years to catch up to the backup. Carriers are increasing driver pay and overtime while recruiting additional drivers to ensure trucks are always in motion.
However, these increased hours on the road creates an increased cost that's being passed on to shippers. Shippers, then, have to either absorb the costs in their margins or further pass these costs to customers, which can cause a loss of sales and customer loyalty.
In this shortage, what can you do to successfully ship your freight without paying high fees or drastically extending your timeline?
How Do You Solve Concerns About Cost And Supply?
LTL shipping is proving the most beneficial solution for retailers and carriers alike. LTL, or Less Than Truckload, allows shippers to pay for a specific space on a truck, rather than renting an entire truckload. Basically, LTL carriers use a network of trucks, terminals, and hubs to ship smaller loads by consolidating with other clients' shipments.
The other traditional transport option is Full Truckload (FTL). FTL transports a single shipper's freight direct to the final destination. However, despite the simplicity of FTL, it's highly inefficient with regards to cost, distance, routing, and price.
With a low supply of trucks, shipping via FTL skyrockets prices for shippers. A retailer would have to fill an entire truck to the brim and completely optimize the route in order for the cost of an FTL to make sense during this capacity crisis.
LTL, on the other hand, takes more organization, but it can be highly efficient and cost-effective for carriers and retailers alike. You can focus on sending urgent, high-priority goods in multiple LTL shipments.
This can improve the timeline of your deliveries to ensure your customers receive their packages quickly. It can also reduce costs by only paying for the space you need. This reduces the exorbitant capacity rates that are cutting into margins during this shortage.
LTL allows you to ship less, ship faster, and ship at a lower rate. In a time of shortage, purchasing any truck space is vital. LTL is the best way to ensure you have some capacity to move your goods despite the deficiency.
Is your logistics bottom line feeling the effects of the capacity crisis and truck shortage?
Don't wait another day to find an appropriate trucking solution.
Contact LTX Solutions right now to ensure your freight reaches its destination quickly, safely, and efficiently.