Previously postponed from March due to COVID-19, International Roadcheck 2020 is back on for September.
Last week, the Commercial Vehicle Safety Alliance (CVSA) officially announced the new dates for this year's International Roadcheck (also referred to as DOT Week) now scheduled for September 9 - September 11. With inspections set to begin as early as midnight September 8, this year's Roadcheck is forecasted to have a heightened impact on available capacity in the marketplace for shippers.
Below you will find all the information on this year's inspection focus, anticipated effects on the industry, and tips to help moderate risks and costs for your supply chain.
The Outlook of Roadcheck 2020 And Its Impact On Supply Chains
The International Roadcheck is the largest commercial vehicle inspection initiative that spans across three countries including Canada, Mexico, and the U.S. Over the course of the 72-hour time frame, CVSA-certified inspectors conduct examinations of vehicle and driver compliance at weigh or inspection stations as well as implement mobile task units to ensure that fleets are meeting federal over-the-road trucking regulations. Each year, a specific emphasis is placed on a category of violations; this year's focus will be on driver requirements.
With carriers facing possible exponential fines that can reach into the thousands, some choose to sit the week out to protect their operations from unwanted costs. Along with costly fines, carriers are exposed to safety rating downgrades or being put out-of-service until violations are resolved. If downgraded, carriers could be ineligible to haul certain freight types, which could lead to a decline in productivity amongst their operators.
In 2019, out of 67,072 inspections, 17.9% of carriers were penalized and removed from roadways due to violations, and 4.2% were placed out-of-service. While the opportunity to earn premiums on freight is enticing, some fleets forego the high-risk, high-reward option, leading to a dip in available capacity in the marketplace, causing coverage concerns for shippers.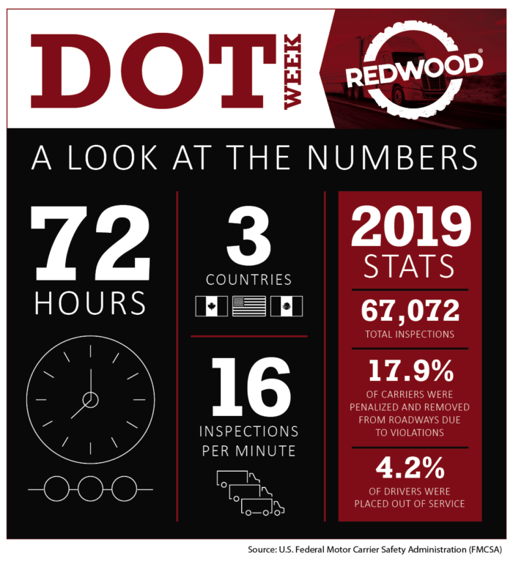 Similar to the 2018 truckload environment, we are entering Roadcheck with an increased ratio of load-to-truck volume. This trend positions the market to repeat from just two years ago, when posted capacity dropped nearly 23% upon the first day of the Roadcheck*. Along with a deficit during the week affecting capacity, it's worth noting that the week after Roadcheck, reported posted trucks were down by 13%*. These deficits present an immense challenge for shippers' freight spend. Referencing Redwood's 2018 Contracted TL Freight Spend, contracted costs rose by roughly 20% during Roadcheck due to reduced supply. The rapid reduction in capacity demonstrates the long-tailed strains Roadcheck has on shippers, and emphasizes the importance of locking in trucks early for contracted freight to lessen exposure to heightened spot market costs.
As we approach the International Roadcheck, it is important to not only be aware of the impacts that the Roadcheck can have on your supply chain, but to utilize tactics to limit the rise in costs and exposure to risks to ensure minimal disruptions to operations.
What Can Shippers Expect During Roadcheck 2020?
Routing guide deterioration
Prepare for the possibility of carriers giving shipments back as they sit out Roadcheck. Pay extra attention to lanes that are 500+ miles as these are at a higher risk for disruption in comparison to local hauls.
Tightened capacity
While most carriers will continue to operate during the Roadcheck, some fleets will choose not to run for the week.
Spot market exposure
We are likely to see a significant decline in available supply, similar to the 2018 truckload market. With a decrease in capacity, this increases the chances of contracted freight being sent to the spot market.
Potential spikes in spot market rates
As more freight is allocated to the spot market, coupled with a dip in supply, rates will get pushed higher. Expect to see premiums paid on contracted freight where carriers fall off due to the Roadcheck.
3 Ways Shippers Can Prepare
Pre-plan shipments
Prioritize shipments appropriately to ensure your transportation providers can service them well. Scheduling loads ahead of time and providing proper loading and unloading times will make your freight more attractive and will limit disruptions to your shipping operations. Bear in mind, if rates are through the roof, ship it the next week if you have the flexibility.
Communicate with transportation providers
Issues can arise; after all, we are in transportation. Help your carrier partners position their drivers best by communicating shipment updates and accessorial policies. Delays are inevitable with the ongoing inspections of Roadcheck. Talk with your carriers about your accessorial policy and work with them to find a solution for all involved.
Be flexible with carrier partners
Roadcheck is challenging for both shippers and carriers. When possible, be flexible to work-in late drivers and be patient with workarounds. Remember, we're all in this together.
Need help navigating International Roadcheck 2020?
Get in touch with a freight specialist and learn how Redwood Logistics'
multi-modal network can help your supply chain.
Source: *DAT Posted Capacity - International Road Check 2018