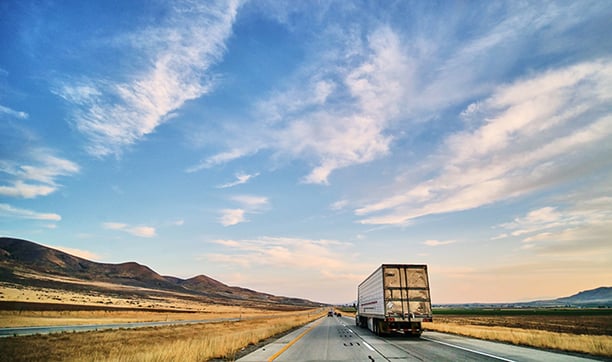 The transportation industry is faced with a severe capacity crisis that could take months, if not years, for a full recovery. There aren't enough available trucks to meet the demand of orders being transported. In fact, according to DAT Solutions, there are currently 10 loads waiting to be moved for every 1 available truck.
This is in large part due to the e-commerce boom. More and more retailers are springing up online, and more and more customers are ordering packages to their doorsteps. This is increasing the volume of international and national shipments at an exponential and unprecedented rate.
E-commerce is also increasing the velocity of packages sent. Customers are demanding fast, reliable, and cost-effective shipping. In order to keep up with competition, retailers are forced to find new and innovative ways to meet these demands.
With an increase in volume and speed, paired with a reduction in truck supply, more and more retailers are moving away from the FTL model of transport to meet demand.
Read: What A Nationwide Truck Shortage Means For Your LTL Shipping Plan
What Is FTL?
FTL or "full truckload" is the traditional method of shipping. This is when one company uses a full truckload to send their shipments from one location to another. With an FTL model, one shipper or retailer "rents" the entire truck to fill with their own goods. They then move that freight from one warehouse to the final destination.
FTL is simple to organize. One shipper sends one load from one warehouse to one destination. However, despite the simplicity, FTL can be highly inefficient. It generally wastes a lot of distance and gas on un-optimized routes.
The price of FTL is also skyrocketing exponentially with the capacity crisis. A high demand and low supply of trucks mean that taking up space of an entire truckload is a privileged few can afford. A retailer would have to fill their truck to the brim with goods in order to optimize the cost for an FTL shipment now.
Why is FTL ineffective for this new and growing capacity crisis?
Read: Are We Still Talking About Capacity Crunches In 2017? Does It Really Affect Full Truckload?
The Concerns of FTL
Before e-commerce, the majority of shipments went from the retailer's warehouse directly to the store. A retailer could pay to fill up an entire truckload (FTL) to deliver an entire season's inventory in one shipment.
Now, though, fewer customers are shopping in-store. As online retail is growing, retailers aren't focusing their transport on moving full truckloads of inventory to their physical storefronts. They're focused instead on moving individual packages from warehouse to the customer's door.
E-commerce is complicating the organization and mapping of transport. This disjointed routing is innately more attuned to the flexibility of LTL as opposed to the simplicity and rigidity of FTL.
Plus, customers want shipments right now. Two-day shipping has become the average. Retailers can't afford to wait to fill an entire FTL with goods when they need to send out their items overnight to a number of locations across the globe. Shipments need to go out immediately, no matter how big or small.
Moreover, there are a number of smaller retailers popping up online. These smaller retailers generally can't fill an entire truckload of commerce, especially with the current FTL prices during the capacity crisis.
With a low supply of trucks, transport companies are actually rejecting small businesses and retailers to prioritize their larger clients. In the long run, this could seriously damage the online retailer economy. In an effort to uphold the transport of small businesses, a number of companies like LTX Solutions are looking for new ways to offer shipping solutions to low-volume shippers.
The Solution: LTL
The cost-effective alternative to FTL is LTL or "less than truckload." Retailers or shippers pay for a certain space on the truck, not the entire truckload. This consolidates shipments from a number of clients and utilizes a network of terminals and hubs.
Especially during the capacity crisis, LTL is highly efficient and cost-effective. This system allows retailers to quickly send smaller shipments to a variety of locations. With the right organization, LTL can help meet the growing demands of the consumer: speed, reliability, and price efficiency.
The Bottom Line
FTL is quickly losing favor with shippers and carriers alike. What was once a simple and effective solution has become cumbersome, inefficient, and costly.
LTL is stepping in to offer solutions for the growing e-commerce shipping market. LTL allows for faster, low-cost shipment of goods to a greater number of locations. This allows for quicker delivery right to your customer's door.
Are you looking for trucks to transport your goods? Do you want to be immune from the capacity crisis?
Contact LTX Solutions now to optimize on the greatest LTL solutions and technologies in the industry!