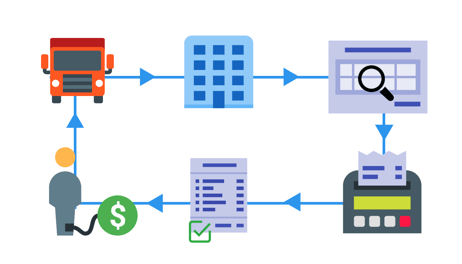 Regardless of how hard you try to avoid them – sometimes, mistakes happen. When it comes to logistics and the transportation of commodities, a mistake on billing can cost a shipper a tremendous amount of money. Due to this fact, most shippers and carriers utilize freight auditing programs to ensure billing consistency, reduce lost revenue, and maintain a system of checks and balances.
What is Freight Auditing?
The freight audit is a vital component of the supply chain operation. This system of checks and balances allows a shipper to review all shipping bills for errors. The audit is a multiple-step process that reviews several items including:
• Verifying the shipper and carrier information: Believe it or not, it's quite common for a shipping invoice to contain the wrong carrier. In most cases, this is due to human error – but if not caught, the invoice may be paid to the wrong company.
• Reviews shipment weights & freight charges: While most carriers operate ethically, sometimes inaccurate information on cargo weights and dimensions are noted on an invoice. The freight audit is designed to review the data from the point of origin and throughout the supply chain to verify that weights and other freight charges are accurate on the invoice.
• Inspect the mileage: It is also common for a type-error to note inaccurate mileage for transportation of goods. The freight audit verifies that mileage documented on the invoice matches other reports.
• Check for Bill of Lading, Fuel Surcharges, and other negotiated shipping discounts: Most shippers negotiate surcharges and discounts with most carriers. However, these rates are individual and unique for each carrier. The freight audit ensures that any rate upcharges or discounts match the carrier.
How is a Freight Audit Beneficial to a Shipper?
It's estimated that one out of four freight invoices has some type of mistake noted. Whether it's a clerical error or fraudulent data – mistakes on an invoice can cost a shipper a lot of money. Having a proven freight audit process included in your daily operations helps to catch mistakes and errors before it creates problems. There are several benefits to the shipper:
A freight audit allows all freight-related invoices and bills to be reviewed, verified for correct information and accuracy and adjusted prior to submitting. By finding mistakes before they are processed, the company will save money on shipping, ensure the correct parties are paid for their services, minimize future invoice-related mistakes by determining the source of the mistake, and more.

• Shippers notice an immediate return on their investment – especially if they work with a proven freight audit service provider. The freight audit and pay program saves a company money by catching data errors and reducing labor costs.
• Allows a company to focus resources elsewhere. When a shipper outsources their freight audit and payment services to an experienced company, they can allocate their employee bandwidth on business growth, customer service, and other vital areas of need.
Freight auditing, when completed by a professional service provider, has been shown to return 6 to 8 percent recovery on average. To put that into perspective, if you are shipping 100 jobs per week, it's likely that 8 of them include cash-deficit errors. Additionally, when a shipper outsources the freight auditing, they can cut labor costs by as much as 10 percent.
Beyond the financial benefits, and improved customer service opportunities, having an experienced 3PL handle your freight auditing and payment responsibilities, you also enhance peace of mind knowing that your company is paying the right amount for shipments. It also helps to keep carriers and others within the supply chain honest. When they know that a professional 3PL is operating on your behalf, they are less likely to make errors on invoicing – especially if those errors magically put more money in their pockets.
Trust and honesty are vital in the shipping and logistics industry. While there are several carriers and others within the supply chain who operate ethically and transparently, a shipper simply can't afford to trust them all. By activating a freight audit and pay program through a proven 3PL provider, you'll save money, reduce payroll, improve the bottom line, and allocate your resources to growing your business instead of trying to protect others from stealing from you.