In this month's truckload update, peak retail holiday volume surge and tightened capacity continue to drive freight rates up to finish out 2020. With truckload demand still going strong, carrier fleets are rushing to place Class 8 truck orders to take full advantage of prime rates in the early part of the new year.
Here's what we will cover in the truckload update:
---
1. Preface to December
Leading into December, shipping volume was coming off a slight stall in recovery from the previous month. After substantial gains over the last five consecutive months, November saw a minor dip in activity.
Referencing the November Cass Freight Index, volumes fell 2.2% from the highs of the October level. The decline was much narrower at 1% with seasonal adjustments, showing minimal slowdown compared to the improved state of industry felt in months leading up to November.
Even with monthly volumes down, year over year (YoY) change was up 2.7% from this time just a year ago, reflecting the heightened consumer demand experienced throughout Q3 and Q4. The less-than-truckload (LTL) sector has been a driving force on the road to recovery along with consumer demand.
LTL tonnage was up 6% YoY, a 1% uptick from October, which makes three consecutive months for LTL gains this year. The LTL outlook for 2021 shows no signs of slowing down, so expect more of the same in Q1.
What caused the November hiccup?
It should be of no surprise the waning US Covid-19 numbers during November hindered the recovery process. Reported Covid-19 cases and deaths exceeded 4 million in November, pushing the US totals higher than any other country on record except for India and Brazil. The setback in pandemic numbers and the slow rollout of vaccinations hindered the positive recovery.
2. December truckload activity
Despite the minor November speedbump, December was still a positive month for freight demand. Using FreightWave's Sonar Outbound Tender Volume Index (OTVI), freight volume increased 2% MoM in December mainly due to the holiday peak season surge, typical for this time of the year.
Ecommerce orders played an even more significant role in the retail space this year. According to Mastercard's latest retail report, online orders skyrocketed, with consumers restricted to their homes due to Covid-19 protocols, pushing total holiday retail sales up 3%.

Capacity shortage was once again on full display during December. FreightWave's Sonar Outbound Tender Reject Index (OTRI), the measured rate at which carriers reject contracted freight, reached the highest mark ever recorded for the OTRI report at 28.37%. With the spot market flooded with surplus volume, prime rate loads were more readily available for carriers, resulting in a high rejection of lower-paying contractual shipments.

Finally settling in the mid-25's for the month, capacity procurement was challenging for shippers in December as they were dealt an intricate hand of low-inventory and increased consumer demand already leading into the month.
3. December load to truck ratio
Referencing DAT's load to truck ratio (LTR), LTR rose slightly in December; the month tallied 4.84 loads to truck compared to 4.49 in November, representing a 7.79% increase month over month (MoM).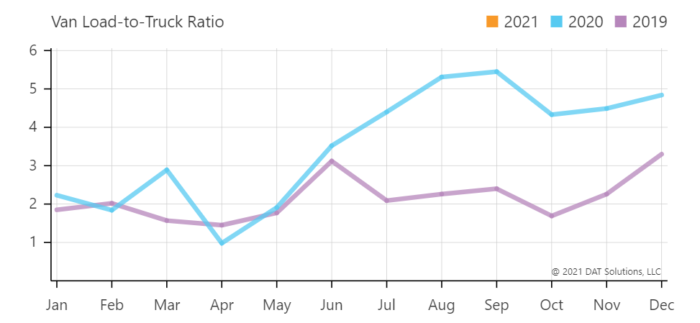 The jump in LTR is typical during the peak holiday shipping season as retail and e-commerce shipments flood carriers' transportation network. Despite preparations made for the anticipated hike in volume, capacity shortage remains a focal issue on the minds of shippers. Deficits in capacity and low inventory levels have put added pressure on shippers to get products to shelves. Also, mounting port congestion has only added fuel to the fire as retailers continue to struggle to move freight from major shipping ports to final destinations.
4. December Class 8 truck orders
To say carriers continued to flock like wild geese to the dealership in December would be an understatement. According to FTR Transportation Intelligence, after coming off a record month in November, December class 8 orders were the fourth-highest performance ever, totaling 52,100 units, just 700 shy of the November record. Class 8 orders are up 169% YoY, totaling 283,000 units for 2020.
Why are carriers forking over the plastic for new wheels? Freight demand and rates remain promising.
Amid the current truckload environment and optimistic industrial production, fleet confidence remains high as carriers continue to lock in their 2021 Class 8 orders to capture the elevated volume and rates.
Don Ake, Vice President of Commercial Vehicles for FTR, states, "The Class 8 market ended the most challenging year with a bang. To get two back-to-back order months over 50,000 is a stellar accomplishment, after previously seeing orders crater to under 5,000 units in April. Now, 2021 has the potential to be an incredible recovery year.

"As the economy continues to improve, fleets are showing increasing confidence about business conditions in 2021. Profits are more than sufficient to replace used trucks, and freight growth is stimulating expansion demand. Put those dynamics together, and the industry is headed toward a robust year.

"Everything right now is headed strongly in a positive direction. Consumer goods remain vibrant. The manufacturing sector is showing definite signs of strength after struggling last year. The second stimulus will pump more money into the economy and accelerate the recovery. The vaccine is expected to get more people back to work and provide an economic boost. And the fleets are responding to this wave of good news by ordering trucks in near-record numbers. After being slowed significantly by the pandemic, the Class 8 market is roaring ahead at a rapid rate."
5. Manufacturing sector grows in December
Following another stellar performance in the manufacturing sector, December marks the eighth consecutive month of US economic growth. Timothy Fiore, Chair of the Institute for Supply Chain Management, reported December's manufacturing PMI, an estimate of manufacturing activity based on the Purchasing Manager's Index (PMI), registered 60.7% for the month, an increase of 3.2 percentage points from November's mark of 57.5%.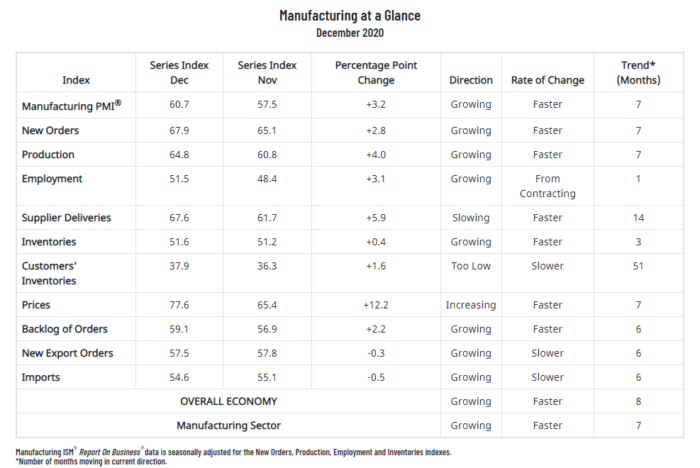 Fiore went on record, stating, "The manufacturing economy continued its recovery in December. Survey Committee members reported that their companies and suppliers continue to operate in reconfigured factories, but absenteeism, short-term shutdowns to sanitize facilities, and difficulties in returning and hiring workers are causing strains that are limiting manufacturing growth potential. However, panel sentiment remains optimistic (three positive comments for every cautious comment), an improvement compared to November. Demand expanded, with the (1) New Orders Index growing at a strong level, supported by the New Export Orders Index expanding, (2) Customers' Inventories Index remaining in 'too low' territory and at a level considered a positive for future production, and the (3) Backlog of Orders Index achieving a 2½-year high. Consumption (measured by the Production and Employment indexes) contributed positively (a combined 7.1-percentage point increase) to the Manufacturing PMI® calculation."
With all six of the biggest manufacturing industries reporting moderate to strong growth in December, the forecast for future freight volumes looks optimistic for the early months of 2021.
6. Notable December truckload events and disruptions
Peak holiday shipping constraints and seasonal winter storms added pressure for shippers and carriers to deliver for customers to round out the year.
Want more Redwood resources?
Visit our Insights page to read up on all the trends and topics impacting the truckload market.
If you're looking for a freight quote or want to speak to a freight specialist on transportation management, you can drop us a line, and we will reach out to you as soon as possible.