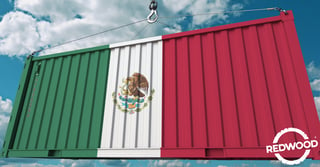 Redwood - Wonder of Logistics Podcast: Cross-Border Shipping Trades, COVID-19, and USMCA
The increase in cross-border shipping activity during 2020 has caused an array of challenges for both shippers and carriers who actively transport materials and goods between the US and Mexico.
Imbalances in equipment, heightened U.S. consumer demand, and COVID-19 regulations are drastically limiting forecasting capabilities, increasing severe bottlenecks, and lengthening time spent at border check-points.
With so much going on at the border, how are opportunities and challenges being addressed?
Redwood's Gubio Henrique, Senior Vice President of Asset Services, was recently interviewed by David Bang of the Wonder of Logistics podcast, to help answer this question.
Here are the episode details :
*From January to July this year, Mexico is the top trading partner of the United States, with two-way trade totaling $290.6 billion. With such an increase in activities, there come bottleneck and in-balance challenges. For example, at the cross-border point in El Paso, TX, the load to truck ratio is as high as 8:1 while the ratio at Laredo, TX skyrocketed to 15:1 (number of loads per truck). Since USMCA (the United States Mexico Canada Agreement) is new (since July 2020), many people are trying to figure out their supply chain impact and future planning, and currently, there is significantly less freight going into Mexico, meaning a lack of drivers situation from Mexico to the USA. Some drivers (who live in Mexico or the US) are trying to cross the border to drive for their next truckloads are often stuck at the borders waiting for hours (due to Covid-19 related additional inspections) and eventually give up and return home, amplifying the driver shortage issue. Of course, recent weather uncertainty (hurricanes and storms) and a surge of e-commerce and consumer behavior changes are adding additional complexity. Will it be a new norm for US/MX cross-border shipping? How can stakeholders, including governments, work together to improve the situation? We had a fascinating interview with Gubio Henrique - SVP at Redwood Logistics, Larry Hotz - Marketing Director at Woodfield Distribution, and Professor Tom Fullerton at the University of Texas at El Paso.
Take a listen as Gubio shares his insights on how the cross-border space has been impacted by the COVID-19 pandemic and where the market is headed.
*Originally aired Wednesday, November 18, 2020.