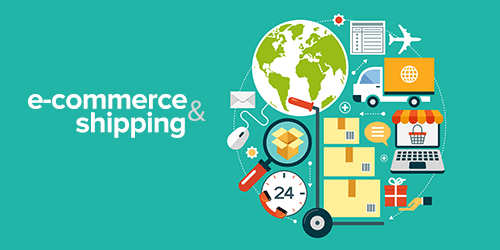 In this week's Redwood Shipping Spotlight, we will be focusing on e-Commerce. If you missed the previous week's spotlight on forklift shipping than feel free to check it out here. E-Commerce is one of the biggest buzzwords in shipping now. The meteoric rise of online retailing has left many shippers and retailers scrambling to figure out the best way to move products sold online. There is a lot of uncertainty surrounding this relatively new and growing section of commerce. Here at Redwood Logistics, we strive to eliminate uncertainty in the shipping world. With over 100 years of combined industry experience, we have the expertise and knowledge you need to understand the nature of e-Commerce shipping. This spotlight will focus on the impact of e-Commerce on freight shipping, particularly LTL, as well as some of the problems inherent to e-Commerce shipping that LTL can solve.
e-Commerce Impact
The rise of e-Commerce in the modern marketplace is creating new avenues of customer demand and expectations. The long-term impact of this trend is just being understood and many aspects are still up for debate. The fact of the matter is that many of the traditional shipping strategies and methods are inefficient for handling the difficulties of e-Commerce. According to U.S. Commerce Department data, e-Commerce sales continue to grow at rates of 15% a year. In contrast, traditional total retail sales grew only around 2%. Furthermore, total e-commerce sales clocked in at over $100 billion dollars in 2015. We don't want to bore you with all this data and numbers, but the reality is that e-commerce is growing at a breakneck pace, and companies who do not recognize this trend and adapt accordingly may lose out on future profits and market share. One does not have to look far to see how the growth of e-commerce is changing the makeup of the modern economy: Amazon continues its plans for global domination, other online retailers such as our friends at Overstock.com continue to expand, even traditional retail titans such as Wal-Mart are getting in on the e-commerce action. These giants are tackling the e-commerce phenomenon in different ways, but they all recognize that consumer demand is shifting drastically. Modern consumers are increasingly willing to forego the brick-and-mortar experience in favor of online shopping. Furthermore, they expect a certain level of convenience that many firms may find difficult to provide, but we'll get into more of that later.

e-Commerce and LTL
E-commerce is having a marked effect on LTL shipping in the United States. Because the nature of e-commerce shipping necessitates numerous shipments of varying size and content, many businesses are turning to LTL shipping to fulfill their needs. The limitations and expense of urban real-estate means that distribution centers in these areas cannot hold massive amounts of product. Therefore, more frequent, and compact shipments are necessary to fulfill final deliveries and bring in more outgoing shipments. This need has created new areas of demand that LTL carriers are increasingly capitalizing on. The proof is in the numbers, since 2011 LTL shipments have grown faster than FTL dry van shipments, particularly regarding e-commerce loads. There are numerous reasons for this growth, but we will touch on a few of the major ones.
LTL carriers are becoming increasingly aware of the largely untapped home delivery market. Yes, parcel carrier giants such as UPS and FedEx have been dominating home delivery for years, but they usually cannot handle larger or bulkier products. Take appliances or exercise equipment, for example, traditionally LTL carriers would avoid these types of loads. These shipments usually indicated residential deliveries which can be a pain due to remote locations that are hard to find or dense urban locations that are difficult to navigate and prone to traffic. Despite the pains, firms are beginning to recognize the growth in this segment of the market. The opportunities of the home-delivery and last mile shipping could potentially lead to increased revenue streams and market share for LTL firms. Because of this trend, it can be expected to see more LTL carriers commit to last mile research and investment, as well as embrace a more "white-glove" approach to home deliveries and installments. Examples of LTL adaption can include redesigning trucks with more maneuverable liftgates and advanced safety features to compensate for residential areas lack of docking infrastructure as well as better trained operators who can both unload and install items for the end-customer.
E-commerce and online retail are continuing to have a marked impact on freight shipping. This impact is still evolving and can often time create doubt within the marketplace. If you are looking to expand your e-Commerce operations but are unsure of the best way to handle your shifting freight needs, then collaborating with a reputable 3PL, such as Redwood Logistics, may be your best move. Redwood has vast industry knowledge, particularly regarding LTL freight shipping. LTL continues to grow along with e-Commerce, so working alongside a firm that understands the ins and outs of this process could be invaluable to your future e-Commerce success. If you have any questions regarding e-commerce, LTL, or freight shipping in general, then please contact us today!