The story of the week is the closing of Convoy, a freight brokerage with $1.1 billion in top-line revenue. This shutdown was precipitated by high interest rates and other tough financial conditions we've covered in our recent Redwood Reports. In the past, industry headlines have focused on carriers exiting the market, but a brokerage shutting down is relatively new. As Convoy's customers work to redistribute their freight, we can expect shippers to take a closer look at the financial health of their trading partners in the future. We continue to watch capacity and inventory as the two major indictors of freight market conditions. We don't have a crystal ball, but there are some positive trends as we approach 2024. A great development would be the resolution of the United Auto Workers (UAW) strike, which has stretched past five weeks. In an otherwise soft market, we dial into the Southern California market, while also noting volume gains in other West Coast cities. While conditions are cool across much of the country right now, everyone should be watching their calendars for a surge in demand following Thanksgiving.
Read on for more details!
Watch This Week's Redwood Rundown
Each week, EVP of Procurement Christopher Thornycroft shares his expert perspective on the US logistics industry in the Redwood Rundown. Watch this video and quickly gain a deeper understanding of the events and trends impacting your business this week:
Is Convoy a Cautionary Tale?
The closing of Convoy might just be a cautionary tale for freight businesses that are similarly struggling to operate at a profit. The current environment of high interest rates proved too much for Convoy, and that may foretell the fate that's awaiting other businesses that are challenged to even make a profit, versus actively grabbing at market share for growth. Convoy exiting the market is notable in that past freight recessions typically force carriers to enter the market — including Celedon in 2019 — but we have not typically seen freight brokerages exit. Earlier this year, we saw Surge Transportation shut down, and now a far larger player in Convoy. What are the broad implications of the shutdown? The freight that Convoy was moving will now be redistributed and repriced by other freight brokerages. Inevitably there will be higher costs attached to this freight, reminiscent of YRC closing and re-pricing its less-than-truckload (LTL) business last summer. While Convoy's exit will not tip the market in a new direction, it does make the case for shippers to consider the health of the businesses that are being awarded freight for the 2024 bid cycle.
Inventory Trends Could Signal a Positive Change
We're continuing to watch trends in capacity (which was covered last week) and inventory as the two major levers for the freight market of 2024. Most freight recessions end due to a critical event — COVID, a hurricane, a polar vortex, etc. — with the impact of that critical event determined by the amount of freight capacity pulled from the market prior to that event. Given that we lack a crystal ball, we can look toward inventory levels and restocking as a major mover for freight volumes in the absence of a natural disaster or similar event. Looking at inventory trends, there was significant movement in the Inventory to Sales Ratios for both Total Business (down -.02 from 1.39 to 1.37) and Merchant Wholesalers (-.03 from 1.39 to 1.36). For Merchant Wholesaler Inventory to Sales ratios, they have averaged roughly 1.35 to 1 during freight recessions, with the spot market gaining significant momentum when the Inventory to Sales ratios hit 1.30. After a long time of wondering when these inventories would begin to normalize, it appears that they are on that path currently. Of course, much depends on the American consumer, who has remained strong in the post-pandemic world. While outstanding credit levels continue to rise, and student loan repayments have resumed, there are positive signs as well. Inflation is still high, but showing signs of slowing. Wage growth is still strong, but cooling. Even if inventory levels contract at a fairly slow rate, they're still projected to require restocking in Q2 of 2024.
The UAW Strike Continues to Create Uncertainty
A resolution of the weeks-long UAW strike would certainly lift the US freight market, but that seems uncertain. A 23% wage increase and other concessions have been offered to the union, but UAW President Shawn Fain has responded by saying "there is more to be won." Last week's strike at the Ford plant in Louisville saw 8,700 members walk away from a plant that generates $25 billion in revenue. This move by the union drew significant attention, but it's still unknown when this strike will end. The long-term impact remains cloudy not just for the Big Three Detroit automakers, but also for the auto parts suppliers who face greater financial peril with each additional day of the strike.
Los Angeles: A Rare Hot Spot due to Imports
In an otherwise soft market, Southern California is a rare bright spot. Los Angeles has averaged a nearly 5 to 1 load-to-truck ratio this week, with increased posted volumes as well. We would point directly to imports, which makes sense given that we saw the Inbound Ocean TEU's Volume Index (IOTI) top 1600 roughly 21 days ago, which is in line with the transit time it takes for containers to make their way from China to Los Angeles. Another important indicator is the US Customs Maritime Import TEUs (CSTEU), which is the seven-day moving average of total Twenty-Foot Equivalent Units (TEUs) cleared by US Customs. This number provides a better idea of exactly how much volume in TEUs is ready to enter surface transportation and is ready to proceed to a given inland destination. The CSTEU has averaged roughly 88K for several consecutive days; the last time the CSTEU was this high was September 14, 15 and 18, which corresponded with load-to-truck ratios of 4.5:1, 7.4:1 and 5.8:1 in LA. Given that the IOTI started dropping below 1400 on October 10, we're betting that the LA market will cool off dramatically in November. When we see the IOTI start picking up again, we will again expect LA freight volumes to heat up.
In market specifics outside Los Angeles, we've seen volumes rebound in Northern California (San Francisco 4.4 to 1) in addition to elevated volumes in Portland (3.8 to 1) and Seattle (2.4 to 1) as the region is in the middle of its produce season. The same can be said for Salt Lake City (8.2 to 1), where volumes have been steadily rising and are entering their peak season. Volumes remain low across much of the rest of the US market.
Looking Ahead
Typically, the entire month of October stays relatively cool, with a slight demand bump for the end of the month. That's followed by a relatively quiet November until Thanksgiving passes. Then we can expect a sudden surge of demand in the week following Thanksgiving (November 27) that disrupts tendering waterfalls, particularly on the East Coast where demand rises very quickly. We advise everyone to watch their calendars and plan accordingly, as that will bring bigger challenges than the US freight market has faced for a long time. The spot market will see rising costs for that time, as we settle into a market that requires higher levels of service, with more natural susceptibility to failure due to winter weather.
Top 3 Charts for the Week
Inventory Levels Begin Trending Towards Future Restocking
This week saw significant movement in the Inventory to Sales Ratios for Total Business, which could be a sign that inventory levels are beginning to normalize.

In Terms of Volume, West Coast Is the Best Coast
Southern California sees freight volumes surge, while other West Coast markets are at the peak of produce season.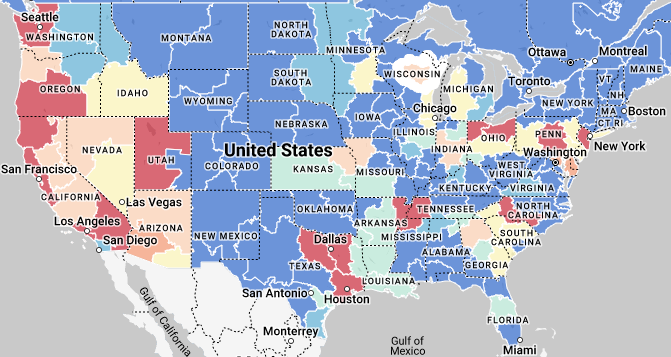 Imports Explain Why the LA Market Is Hot
The CSTEU averaged roughly 88,000 for several consecutive days, the second-highest numbers we've seen this year..

Get Up to Speed with Weekly Market Intel
You can watch Christopher Thornycroft's insightful Redwood Rundown video every week by following the Redwood LinkedIn page. Our insights blog is another great way to learn about industry trends and gain intel, including the weekly Redwood Report and other news!