We're through the first full week of November, and Sonar's Outbound Tender Volume Index (OTVI) has seen an unseasonable increase. We're also seeing strong import numbers, reflected in Sonar's Inbound Ocean TEU Index (IOTI) — which is a good indicator of future inbound import volumes. We'll be watching over the next few weeks to see if the rising IOTI translates into growth in truckload freight volumes. Overall, we're seeing volumes slowly return to pre-pandemic trends, though the effects are still not being felt in the spot freight market segment, which remains crowded. We're also starting to see an expected correction in the number of total carrier authorities. While this is a natural correction from the oversaturation we experienced in the past two years, the continuing exodus of carriers will drive higher spot rates in 2024. In market specifics, the greatest volatility remains in the Pacific Northwest and rural markets, especially for temperature-controlled transport. With the United Auto Workers (UAW) strike nearing a final resolution and no longer pushing freight volumes down, many markets like the Midwest should start seeing small seasonal increases across the board. The Veteran's Day holiday pushed freight volumes down a bit, but it's the calm before the storm of the post-Thanksgiving push, which we've been anticipating for weeks.
Read on for more details on current and future trends in the US freight market.
Watch This Week's Redwood Rundown
Each week, the Redwood Rundown showcases expert insights from EVP of Procurement Christopher Thornycroft. Spend just a few minutes with Christopher to gain a deeper understanding of the news and events impacting your business this week:
Many Signs Point to Volume Growth
As we look back on the first full week of November, there's been an unexpected increase in the OTVI. Typically we see a soft market to begin November; the OTVI declined in 2019, 2021, and 2022, with only the 2020 market seeing a volume push ahead of Thanksgiving. What else does this year have in common with 2020? Strong import numbers, though we're seeing that to a much lesser extent in 2023. While the IOTI — a key indicator of import volumes — dipped three weeks ago, it's now rising back to stronger levels. Growth in inbound import volumes typically fuels growth in overall US freight volumes. First, we will generally see a push toward intermodal (IMDL) transportation modes, and then a demand for faster service shifts those loads to truckload freight. We'll be watching rail volumes closely for the next few weeks, as there's not likely to be a truckload conversion without rail volumes going up first.
Are We Finally Returning to Pre-Pandemic Conditions?


Going back to 2022, we've seen a trend toward shipper destocking. With consumer demand remaining resilient this year, however, now shipper volumes are returning to pre-COVID trendlines. This has yet to be felt in the freight spot market. The spot segment remains oversaturated with capacity from carriers of all sizes, but particularly enterprise-level carriers who are staying in the market by servicing contract freight — which remains $0.47/mile higher than spot freight rates from October. We've begun to see the correction we predicted in the number of total carrier authorities, which ballooned in 2021. The smaller carriers and owner-operators who serve the spot market almost exclusively have seen below break-even rates for over a year now. Although the pace of exits for this large portion of capacity has slowed in the last month, we still expect it to accelerate in the near term, as long as spot rates remain below operating levels. With enterprise-level carriers past their peak for long-haul employment, and as attrition runs its course, the strength of routing guide compliance will continue to be tested with each new freight award. With the shrinking pool of owner-operators available, routing guides built on paper rates will be susceptible to a hockey stick rise in spot rates in 2024.
Market Trends Across the US
In market specifics, the greatest volatility remains in the Pacific Northwest, from Seattle (3.0 to 1) to Portland (3.3 to 1) and the rural markets, particularly for the temperature-controlled mode. Los Angeles (3.1 to 1) has cooled significantly, dragging neighboring markets down with it, however this market is going to see a late season pick up following the Thanksgiving holiday. This surge in freight volumes is likely to last through the entire month of December and drag all the way into early January. The Midwest saw small increases across the board in posted volumes last week and will continue to tighten heading into Thanksgiving in markets such as Green Bay (3.2 to 1), Minneapolis (2.7 to 1) and Cedar Rapids (3.0 to 1). The Mid-South followed suit, with small volume increases in the border markets (Laredo 2.9 to 1) which helped Dallas (2.6 to 1) and Houston (4.7 to 1) realize their highest average volumes since July. The Eastern Seaboard remains wide open from Elizabeth, NJ (2.3 to 1) and Baltimore, MD (1.8 to 1) down to Charlotte (2.3 to 1) and Atlanta (1.9 to 1).
The Calm Before the Storm
This week ended with Veteran's Day, which pushed freight volumes down a bit. But we expect a small catch-up to take place next week ahead of the Thanksgiving holiday. However, due to still-high inventory levels and a desire to remain lean right now, there is unlikely to be a significant short-term spot push before Thanksgiving. In the week following the holiday, however, a significant push is expected that will catch many by surprise. We've been talking about this for weeks. Don't be caught unaware!
Top 3 Charts for the Week
The OTVI Shows Surprising Growth
The first full week of November saw an unseasonable increase in Sonar's Outbound Tender Volume Index (OTVI).

Higher Truckload Volumes? Look to the IOTI
Growth in Sonar's Inbound Ocean TEU Index (IOTI) generally foreshadows an increase in future truckload freight volumes.

Carriers Continue to Exit
The number of total carrier authorities continues to decline, a natural correction from the oversaturation of the past two years.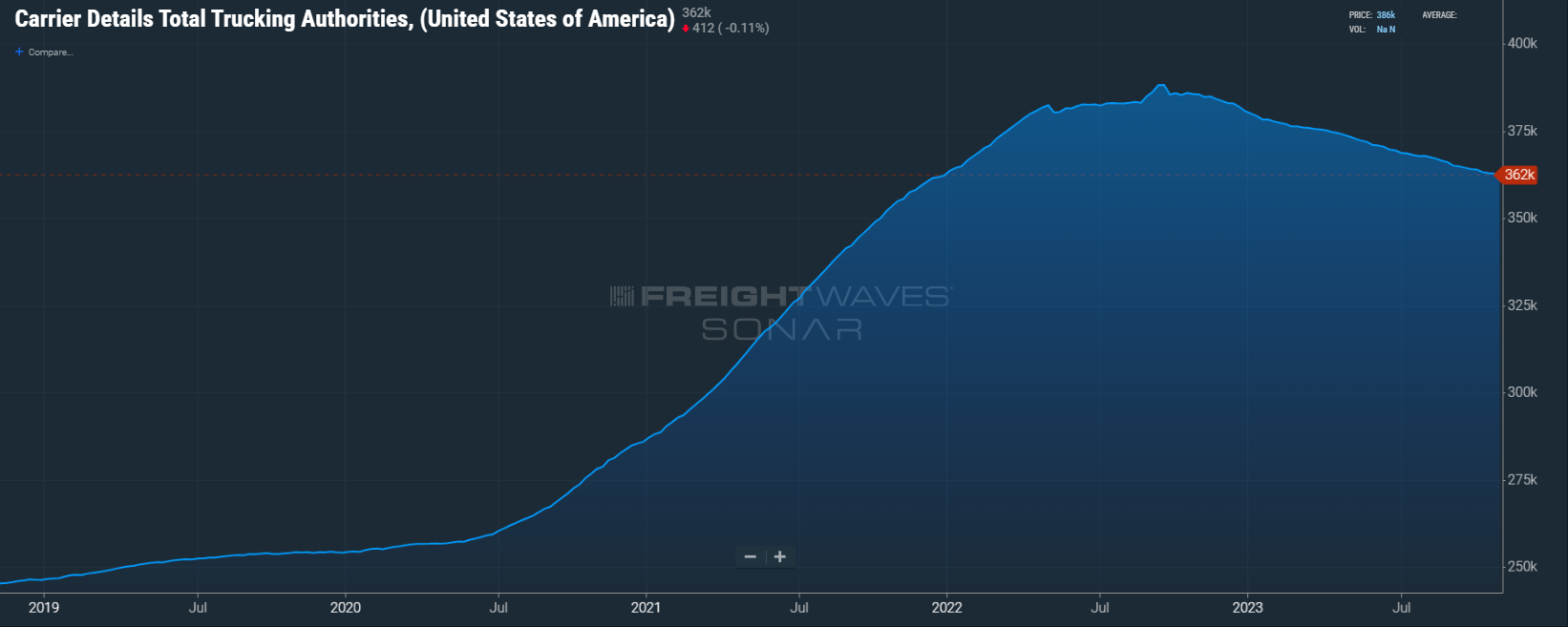 Get Up to Speed with Weekly Market Intel
What's going on this week in the US logistics market? Follow the Redwood LinkedIn page to watch Christopher Thornycroft's insightful Redwood Rundown video every Tuesday. You can also read our insights blog to learn about industry trends and gain intel, including the weekly Redwood Report!