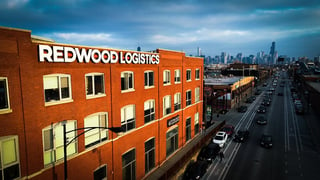 Redwood Logistics Doubles Down in Mexico as Nearshoring Investments Signal Manufacturing Revolution
–Redwood expanding Monterrey operation to support shipper manufacturing growth south of the border–
CHICAGO – April 18, 2023 – Redwood Logistics (Redwood), one of the fastest-growing supply chain and logistics companies in North America, today announced an expansion of their operations into new offices in Monterrey, Mexico. Redwood Mexico already operates south of the border, with boots on the ground for over 5 years, but the expansion of Monterrey operations reflects the investment businesses are making in nearshoring efforts as they look to reduce manufacturing and cash-to-cash cycles.
"Mexico has evolved from an exporter of basic goods to a manufacturing hub for the most complex and technologically advanced consumer goods, and we are seeing major investments from the world's largest retailers and manufacturers from industries including automotive, appliances, aerospace, pharmaceutical, HVAC and food & beverage," said Jordan Dewart, President, Redwood Mexico. "As shippers of all kinds make the move south of the border, it's vital that we grow to match their efforts. With our expansion in Monterrey, we're now able to service more cross-border freight beyond the over 25,000 shipments we already oversee on a yearly basis."
According to CANACAR, which represents the interests of the transportation industry in Mexico, it is estimated that exports derived from nearshoring into Mexico could reach $35 billion USD. In current standing, Mexico's industrial park occupancy hit a record high last year, growing 30 percent compared to 2021 and an average occupancy rate of more than 97 percent. As for the physical transportation of goods, nearshoring will provide motor transport growth of 20 percent in the next 2 to 3 years.
"The port disruption and manufacturing delays that shippers experienced due to the pandemic was a wakeup call of epic proportions," added Dewart. "Nearshoring is not a new idea, but what is new is the scale of investment that companies are making. The savings you get from manufacturing in Asia are offset if your containers sit on ships for hundreds of days, you rack up huge demurrage fees and chassis are unavailable at the destination port. With Mexico, you simply put what you need on a truck and can have it at a final-mile distribution warehouse within days, rather than months. Our Monterrey operation will interact seamlessly with our well-established footprint in El Paso and Laredo, TX, to provide total visibility of all shipments on both sides of the border."
Redwood Mexico currently offers cross-border capacity solutions, warehousing & distribution, U.S. customs & clearance, Mexico customs & clearance, and physical Redwood assets that assist in the movement of freight. By combining current operations with the growth of operations in Monterrey, Redwood is expanding to match the growing need for nearshoring transportation options. With years of experience operating in Mexico, the transition will be smooth and quick, allowing for Redwood to service more shippers and support over 150 employees across all business units in the region out of the expanded and centrally located Monterrey offices.
For more information about Redwood Mexico, please visit https://redwood1dev.wpengine.com/service/move/redwoodmexico/
---
About Redwood
Redwood Logistics, a leading logistics platform company and modern 4PL headquartered in Chicago, has provided solutions for moving and managing freight for more than 21 years. The company's diverse portfolio includes digital freight brokerage and flexible freight management all wrapped into a revolutionary logistics and technology delivery model—Logistics Platform as a Service (LPaaS). LPaaS utilizes an open platform for digital logistics that empowers shippers to seamlessly mix-and-match partners, technologies and solutions into their own unique digital supply chain fingerprint. Redwood connects a wide range of customers to the power of supply chain management, technology and the industry's brightest minds. For more information, visit www.redwoodlogistics.com.
Media Contact
Tyler Thornton
LeadCoverage
tyler@leadcoverage.com