,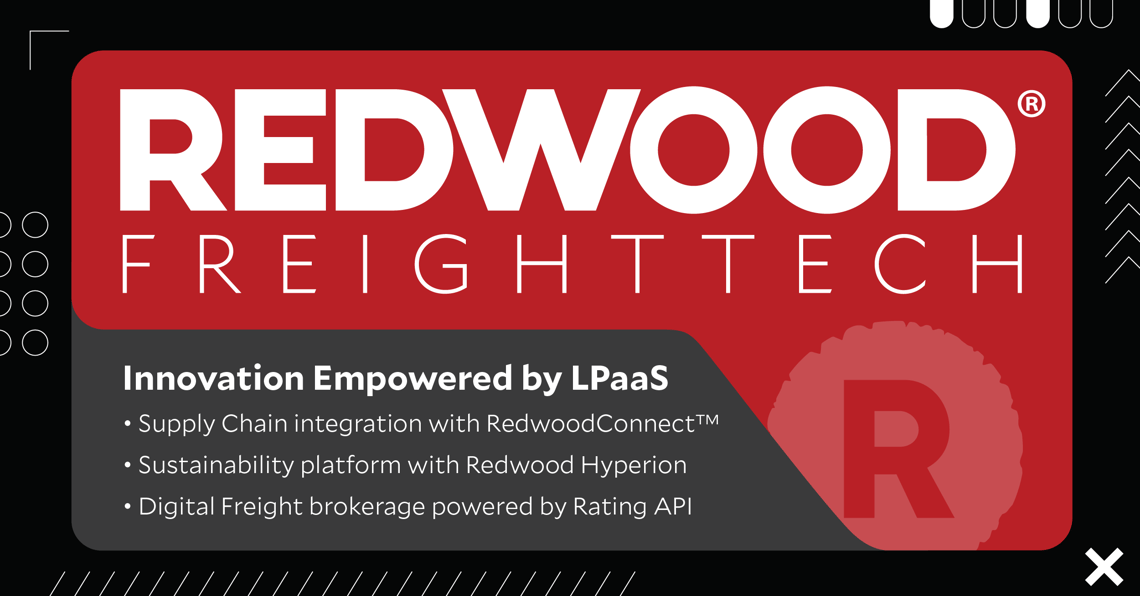 You've heard of SaaS (Software as a Service), and perhaps iPaaS (Integration Platform as a Service), but a newer model is sweeping the supply chain and logistics industry: LPaaS – Logistics Platform as a Service.
Redwood Logistics created the innovative model, which vaulted Redwood into FreightWaves' 2022 FreightTech 25 list after FreightTech 100 finishes in 2019, 2020 and 2021. Now, the model is growing into maturity with new and expanded tools and platforms joining the game-changing open ecosystem as voting takes place in the 2023 FreightTech awards.
If you're struggling to connect all your different supply chain systems and data, there is a way to integrate them all into your unique supply chain footprint. LPaaS makes it possible.
---
LPaaS: An Open Platform for Digital Logistics
Ultimately, LPaaS unites full-service third-party logistics with industry-leading open technology, with a goal of eliminating the complexity and risk of building and running your digital logistics network. It's the all-in-one toolkit for plug-and-play logistics.
Through the model, Redwood empowers shippers to move their freight via a combination of digital freight brokerage, dedicated capacity and multimodal cross-border solutions; manage their freight with outsourced transportation management, including LTL, Parcel and Warehouse & Distribution; and innovate their supply chains using RedwoodConnect™ to integrate disparate systems, as well as the newly introduced sustainability offering, Redwood Hyperion.
Here are the three most recent ways LPaaS can transform your supply chain.
---
Integrate Your Supply Chain With RedwoodConnect™
RedwoodConnect is the integration engine of LPaaS, acting as the distribution hub to seamlessly link your entire supply chain. All carriers, apps and systems. Integrated in real-time (requiring no code or implementation support from your IT team).
RedwoodConnect's platform services team does all the heavy lifting to allow users to save time and money when integrating RedwoodConnect with their systems. In the age of disruption, having visibility into shippers' cargo and data is vital to business success.
This year, the RedwoodConnect team continued to add partners to its extensive ecosystem. This meant adding some of the world's most innovative FreightTech companies like project44 to the existing roster of heavy hitters. They join the ranks of others like Oracle and MercuryGate. The RedwoodConnect platform is the engine of the LPaaS model and empowers shippers and logistics service providers to modernize their supply chain end to end.
Connect with our RedwoodConnect team to discover what RedwoodConnect™ can do for you.
---
Create a Sustainable Supply Chain with Redwood Hyperion
Redwood announced Redwood Hyperion earlier this year. Redwood Hyperion is a revolutionary product that can automate your load-by-load emissions calculations using best-in-class standards. Further, it supports your carbon-neutral initiatives with easy access to verified carbon credits (through a recently announced partnership with Cloverly). All while providing easy access to sustainability reporting.
Redwood Hyperion allows customers to make well-informed carbon reduction decisions by providing unparalleled visibility, all integrated with other systems through the power of RedwoodConnect. See how it all connects?! Hyperion meets shippers where they are in their sustainability journey, while providing actionable insights to reach their goals. Get the insights you need to take the actions you want.
Connect with our Redwood Hyperion team to add the missing piece to your sustainability puzzle.
---
Flex Your Digital Freight Brokerage to the Market with Redwood's Rating API
Redwood's dynamic Rating API provides an innovate solution to the ongoing concern of flexible transportation options in an ever-changing market. Enjoy 100% tender acceptance in tight markets and real-time brokerage optimization as the market shifts.
The API is easily integrated into any preferred TMS. Furthermore, it allows shippers to save time and money in the transportation planning process by connecting to Redwood's private network of 20,000+ carriers. This assures guaranteed capacity with real-time pricing and the ability to book shipments in seconds.
Connect with our Rating API team to upgrade your digital freight brokerage.
---
Create Order From Chaos With LPaaS
What could the LPaaS model do for you? How could you benefit from the agility of a cohesive physical and digital supply chain?
Take a deeper dive into the power of LPaaS with a visualization of how it works, then explore all elements of the menu of services that you can take advantage of and connect with our team.