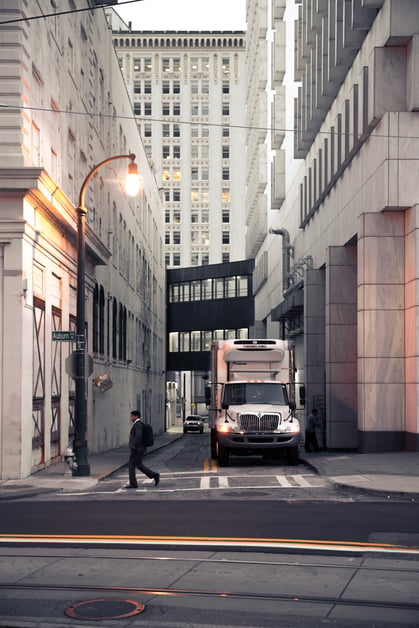 Did you know with LTL (Less Than Truckload), you can customize your delivery service to fit your home or company needs? Yes, it's true and we are here to help you navigate the variety of services that carriers provide to our customers. For a specific item, you may want to select either Inside Delivery or White Glove Service as part of your shipment plan. Before you begin, it is important to understand the difference between the two services as these delivery methods are not interchangeable. Both can remove some of the hassle shipping your freight but do differ on how the item arrives at your intended location. How do you know which one is the best for your shipping needs? Let us talk you through different processes and relieve any stress you may feel when delivering your freight.
Inside Delivery
Inside Delivery occurs when you need freight, such as a large piece of furniture, delivered to your home or office. By selecting Inside Delivery, a carrier delivery agent is required to move the shipment to a driveway, garage, or even your front porch. The driver is, however, not required to take your shipped items inside your home. For a business, the shipment may be placed inside a few feet within your office entrance. Additionally, there might be an extra charge for the usage of an elevator and carriers may not break down your freight in order to move it through any doors. If your freight shipment is larger than the entryway of your business, our carrier delivery agent may not bring it inside. Drivers do not perform "extraordinary" functions, such as delivering up long and winding drives or delivering in an area that could be unsafe for their equipment as a few examples. As noted earlier, if you need to add any further instruction, be aware that the cost of shipment will increase due to your specialized needs.
White Glove Delivery
Let us exceed your expectation with the ultimate level of care when it comes to the delivery of your items. LTL's White Glove Service is much more than wearing just white gloves to deliver your freight. Instead, our drivers provide that extra special step beyond the standard expectations of a delivery when what you are shipping requires special processing and handling, an item that is delicate such as an antique or when you just want all the details handled for you. You are our VIP and the carrier delivery agent will make sure not to rush you during the delivery process, take time to identify the best method for handling your shipment as well as deliver your items to a specific destination. This service includes carrier delivery agents unloading and bringing the items to the location within the building such as a designated office space or bedroom. Additionally, this type of service provides:
• Reduction of crime or theft. Your packages are not left out in the front of a building or a doorstep where criminals can get a hold of the goods that are rightfully yours.
• The benefits of this service include assistance with a heavy or bulky item such as furniture. Your selected moving company will move your item either up or down a flight of stairs to the designated location in your business or home. They will also remove any debris or packaging once the shipment is secure.
• Your White Glove Service may include light assembly of your shipped items.
• Enjoy flexibility by utilizing a White Glove Service by selecting the day and time that work with your schedule. Many shipments occur between the hours of 8 a.m. and 5 p.m., Monday through Friday, in 4-hour increments.
As a valued LTL customer, understanding the differences between Inside Delivery and the White Glove Service is important. Our company will connect you with the delivery service that will meet your needs as you plan your next freight shipment. Our Inside Delivery and White Glove Services are not part of the standard delivery for freight. There might be a few requirements that our carrier delivery agents need to adhere to in order to avoid liability issues. Before you pay for a service that does not meet your shipping needs, connect with one of our LTL experts. Our company wants to ensure that your deliveries are stress-free and if you anticipate these factors ahead of time, then your shipping experience is likely to be a positive one. At LTX, our associates can provide additional information concerning our courier services or many delivery methods. Contact us for free estimates as we are here to help you before, during and after your items are delivered.