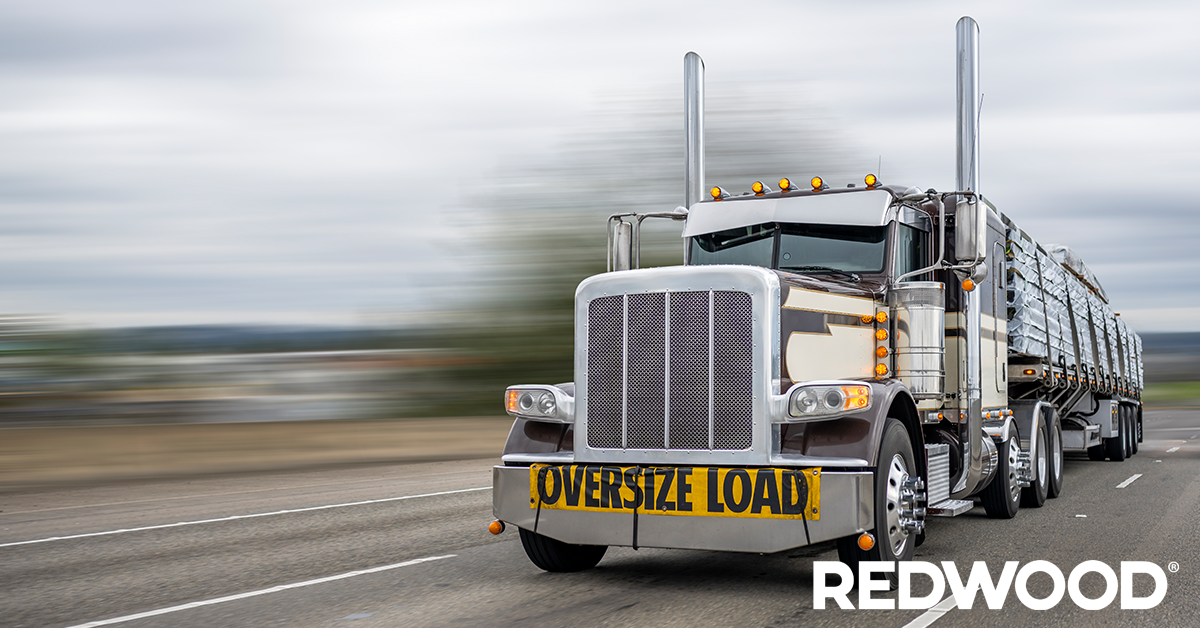 An oversize load, also called a wide-load, is any vehicle or load wider than 8 feet, 6 inches. These are usually flatbed loads carrying large items such as vehicles, machinery, or manufactured homes. Shippers moving oversize loads are subject to special freight restrictions and will require extra permits. Wide-load restrictions vary from state to state, as well as between the US and Canada. Be sure to check all local regulations along your route well-ahead of time.
In this quick primer we will cover the national regulations affecting wide loads. We will also be jumping into other factors that must be taken into account such as max width trailers, weight limits, use of travel escorts, and special markings.
---
What is Considered a Wide-Load
Due to federal regulations, most trailers are built within the 102-inch limit. Flatbed loads are usually considered a wide-load when the large machinery, manufactured home, vehicle or large equipment placed on the trailer extends beyond the 102-inch width of the trailer itself. When this happens, you'll need to obtain the necessary wide load or oversize load permits. The maximum height for a load is the same as the width, not to exceed 102 inches.
If the flatbed load extends to 12 or more feet in width, you may need to hire travel escorts as well. We'll get more into that subject a bit more in the following section.
Weight is another important consideration. In general, 46,000 pounds is the maximum legal weight for a load. However, local regulations may vary on this.
This limit is usually calculated based on the load carried by each axle. If the full load is under 46,000 pounds but the weight carried on one axle is higher than the legal limit, it could still be considered an oversize load and therefore requires special permits.
Most states require you to use amber lights or red flags in order to warn other vehicles on the road. The size of the load itself will determine what and how many flags or lights are needed.
Does your oversize loads consist of components that could be broken down and shipped separately within the legal limits? You may not be able to obtain or need the oversize load permit. Perhaps FTL would be a more suitable option if it can fit a standard bed.
---
Travel Escorts
Travel escorts, also called pilot vehicles, drive ahead of the truck carrying the oversize flatbed load. The travel escort job is to look out for any potential hazards or accidents, construction zones, bridges, traffic jams, or anything else that might obstruct the oversize load. They can radio these dangers to the trucker, and also warn oncoming vehicles that a wide-load is on the road.
Your travel escorts will usually need to have amber lights or red flags prominently displayed. This helps them to alert other vehicles of your presence on the road.
Pilot vehicles are usually required when an oversized flatbed load exceeds 12 feet in width. However, ensure you are aware of your state and local regulations as this can vary. Pilot vehicles are usually hired per mile, with hotels and other incidental fees ("accessorials") covered by the shipper.
If you're driving with escorts or pilot vehicles, there may be local regulations dictating which hours or days you can be on the road. This is often from 30 minutes before sunrise to 30 minutes after sunset, Monday through Friday. Check the time limits for each area on your route, as hauling oversize loads during certain holidays may be restricted as well.
---
Conclusion
To round up this quick primer, you'll need to start with the following checklist before hauling a wide-load:
A max width trailer is 102 inches, or 8'6". If you're carrying a flatbed load that extends beyond this, your load will most likely be considered oversize or wide and require special permits and precautions. If the load can be broken down into smaller components for shipping on more than one trailer, you may not be able to obtain the permits.

Check the regulations for each state you'll be driving through. If you need to go off the interstate or national highway, be sure to know the local regulations as well.

Loads extending over 12 feet in width will usually require travel escorts, or pilot vehicles. Determine if, where, and when you'll need pilot vehicles and what per-mile fees and accessorials must be covered.

Max weight is usually 46,000 pounds, calculated on a per-axle basis. If the load is heavy but doesn't extend beyond a max width trailer, you may be able to shift the weight. Ultimately, allowing you to not require the extra permits.

Check what times an oversize load or an oversize load with pilot vehicles are allowed on the road and plan your schedule accordingly to avoid unexpected delays.

Know what flags and lights you'll need on your vehicle, trailer, load, and pilot vehicles.
Shipping an oversize or wide-load isn't always an easy task. And it will indeed require extra permits, costs, and research on local regulations. If you stay informed, take all necessary precautions, and factor in the extra costs and potential delays, however, it can be done safely and profitably.