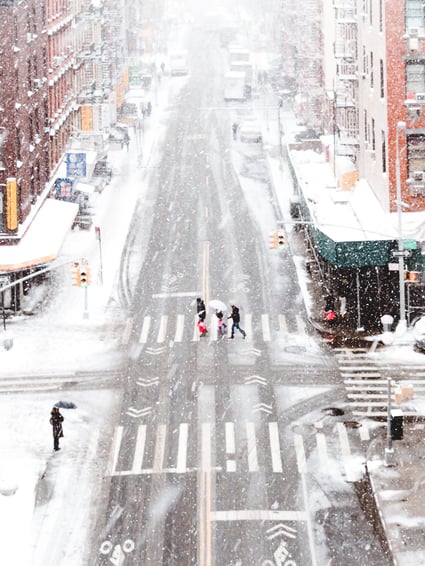 To quote Ned Stark – "Winter is Coming". While the iconic character of Game of Thrones was referring to a fundamental change in the mythical land of Westeros, winter does pose a problem for shippers who need to transport commodities across the USA. Since today's customers have time-management restrictions – and simply don't accept weather as an excuse, shippers need to find creative ways to combat the hurdles that come with LTL shipments in winter.
Noted below are a few important tips for planning your shipments when the cold weather strikes.
How Does Winter Weather Impact LTL Shipments?
We all understand that cold weather, specifically rain and snow is the biggest cause of shipping delays. Whether it's parcel shipments via Fed Ex, UPS or USPS or an LTL shipment, bad weather can significantly delay the movement of freight across this nation. There are a few specific ways that bad weather impacts logistics.
• Damage to equipment: Most people would assume that weather is the most common cause of shipment delays. However, it's not just the hectic road conditions that are the root source. Severe weather can cause damage to equipment that moves freight.
• Traffic: Weather also delays the efficient movement of freight. The snow that falls can quickly develop into packed ice – which naturally slows down traffic to a snail's crawl. Since safety is always the #1 factor in any industry, this is one of those items nearly impossible to predict or control.
Since changing the weather is simply not possible, a shipper needs to incorporate a few important tips that can reduce the delays and damage caused by winter weather. Here are 6 items that all freight shippers can do to deal with the reality of poor weather.
• Understand your capacity: The first thing to remember about winter shipping is that it's no time to rush. A good way to ensure this is to have a clear understanding of your freight shipping capacity.
• Communicate with your customers: Since weather can creep up unexpectedly, and cause delays in the shipment, communicating with your customers can reduce the potential of upset people. The most important item to remember to be proactive about your communication. Don't wait till the last moment to let them know about potential delays with weather-related issues.
• Create a plan for inbound delivery delays: Bad weather doesn't discriminate. Poor road conditions or extreme weather can also impact the receiving of items you need to stay ahead of the curve. This is the main reason why many manufacturers and retailers maintain higher inventory levels during the winter months. When you can ensure that you don't run out of supplies or raw materials, you'll never have to explain to customers that their shipments have been delayed due to weather – when it's 60-degrees and sunny outside.
• Be careful about delivery guarantees: There are many companies that offer delivery guarantees to their customers. However, when poor weather arrives – this can cause significant customer relationship problems. The best way to combat this is to be careful about setting unrealistic freight shipment guarantees.
• Set up backup power systems: In some instances, the logistics of outbound or inbound freight is not the main issue. If a manufacturer does not have power during poor weather conditions, it can cause them to shut down production. By having a backup power system, whether it's generators or another source, you can reduce production delays and stay on schedule.
• Create 'makeup days': This step works well for companies that have limited production schedules. If poor weather (specifically snow) shuts down your operation for a day or two, consider giving employees the option to make up work hours – to stay on schedule. This also applies to your logistics program. If you get behind schedule, work with your LTL carriers to determine if they can pick up on 'off' days.
We all understand that weather sometimes happens – and more often than not, it arrives at the worst time. However, by following the six steps listed above, you can combat most weather-related delays in a proactive way – so as to not disrupt your operation or impact customer service.